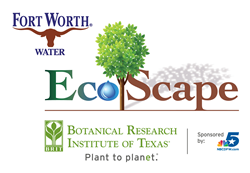 Fort Worth, Texas (PRWEB) May 16, 2014
BRIT, the Fort Worth Water Department, and NBC 5 are partnering to sponsor the second annual EcoScape residential summer landscape contest to find the homeowner with the most creative, attractive, and water efficient lawn in the area. The contest runs from June 14 to August 16 and will be judged on three key criteria:
1. Design – aesthetic appeal; composition; use of color and plant variety;
2. Water Conservation – efficient irrigation/water use; use of non-vegetative materials such as fences, walls, walks, etc.; use of native and/or adapted plants; reduced turf area; and use of mulches; and
3. Appropriate Maintenance – healthy landscape, no weeds; plants pruned as appropriate.
This is an effort to raise awareness of wasteful water usage and to challenge area homeowners to create water efficient landscape to reduce water consumption. It is estimated that half of the total household water use during the summer months goes to landscapes.
Residents with 1,000-square-foot (or larger) front yards are eligible and are invited to submit their water efficient yards that use native/adaptive plants and mix according to color, aesthetic appeal, and plant variety.
"Fort Worth residents put more than 4.3 billion gallons of water into landscapes last year during the summer months. Despite how that sounds, we've made headway in Cowtown and for that reason alone, we wish to invite everyone to be part of this contest," assures Micah Reed, Fort Worth's water conservation manager.
The EcoScape Contest is open to residential landscapes within Fort Worth city limits and Fort Worth's wholesale customer cities, including Aledo, Bethesda Water Supply Corp., Burleson, Crowley, Dalworthington Gardens, Edgecliff Village, Everman, Forest Hill, Grand Prairie, Haltom City, Haslet, Hurst, Keller, Kennedale, Lake Worth, Northlake, North Richland Hills, Richland Hills, Roanoke, Saginaw, Southlake, Trophy Club Municipal Utility District, Westlake, Westover Hills, Westworth Village and White Settlement.
Applications are available online at the City of Fort Worth Water web site (http://fortworthtexas.gov/EcoScape/).
About the Botanical Research Institute of Texas
Founded in 1987, the Botanical Research Institute of Texas (BRIT) based in Fort Worth, Texas, is an international, scientific research and learning center focused on conservation, knowledge sharing, and studying the diversity of plant life. BRIT conducts extensive global research, including major projects in Texas, Europe, Peru, and the Pacific Islands. In the last 10 years, BRIT scientists have located and described scores of species previously unknown to science. BRIT's herbarium is among the largest in the United States and is the largest U.S. herbarium not part of a university, botanical garden, or broader natural history museum. In the spring of 2011, BRIT moved into its new, U.S. Green Building Council LEED (Leadership in Energy and Environmental Design) platinum-certified headquarters located in the Fort Worth Cultural District. BRIT is open to the public Monday through Friday from 10 a.m. to 5 p.m. and on the first Saturday of each month from 10 a.m. to 2 p.m. Admission is free. For more information, visit http://www.brit.org.