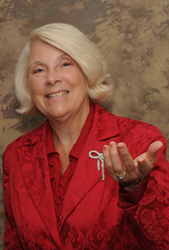 Learn easy ways to spark your profits.
Daytona Beach, FL (PRWEB) May 21, 2014
The book "Aesop's Keys to Profitable Marketing." dramatizes Aesop's stories, relates his wisdom to marketing, and describes how to get results.
"Do you want to generate more profits?" asks Dr. Kenneth Bernhardt, Past President of the American Marketing Association. "Dr. Kruger lays out easy-to-follow ways to increase your profits."
Some profitable strategies are to focus on quality, compete on strength, target key prospects, and reward the best. A universal law predicts the results of each strategy. Business leaders learn exactly how to spark the profits of their business.
Its first four chapters help business leaders clarify the mission, specialty, suppliers, and target market of a business. The next four chapters coach them to decide about its products and services and how to price, distribute, and promote them. The final chapters advise business leaders about prospecting, customer service, budgeting, and taking action.
These twelve key marketing decisions encompass the components of a strategic marketing plan. Upon completing the book, business leaders have a customized plan for profiting from the 80/20 rule.
Richard Koch, author of the million copy bestseller, "The 80/20 Principle," confirms, "Aesop's Keys to Profitable Marketing is an intriguing fusion of Aesop's insight and Pareto's realism that can truly benefit today's business leaders."
"Betsy has laid out an easy-to-use process for growing top customers in any business," states Robert Iocco, CEO of TrustPoint Insurance.
For example, the first chapter, "Mission: How to Rule a Marketplace" opens with a vignette. "Early on a Monday morning, two independent distributors are enjoying lattes at Starbucks. The mentor asks, 'How is your prospecting coming along?' Smugly, the novice heaves her list of prospects across the table."
"Her mentor says, 'I have only a few prospects. I easily convert most of my prospects into customers. I can predict who will become customers and which ones will buy the high-priced items. Quality not quantity counts. Focus on high-quality prospects and your commissions will soar. This book will coach you to identify your high-quality prospects.'"
This vignette is similar to an Aesop fable that explains why a lion cub will rule as king. "A vixen leads her litter of little foxes up to a lioness and sneers, 'You only bore one cub.'"
"Tossing her head in scorn, the lioness roars, 'Only one, but he will rule as king of the animals.'"
"Aesop noticed that 'quality not quantity counts.' The vixen bore a quantity of little foxes, but the lioness bore one high-quality cub. In modern jargon, a lioness is exceptional at everything she does, from taking care of her family to running a business venture."
"In my first seminar about this book I boldly state, 'Let's test if quality counts more than quantity. Our inputs will be the people in this room and our outputs will be—hats. We'll see if a few people own most of the hats. We'll define high-quality hat owners as possessing many hats and low-quality hat owners as possessing few hats.' I asked each person in the room to count their hats."
"A participant reported, 'The twenty people in the room own twenty-six hats. The four who are high-quality hat owners own twenty-one hats so twenty percent own eighty-one percent of the hats. The sixteen who are low-quality hat owners own five hats so eighty percent own nineteen percent of the hats.'"
"I said, 'Quality not quantity counts for hats so we can conclude that quality does count.'"
Dr. Kruger's mission is to spark profits, one business at a time. Her marketing consultancy, Strategic Power, earned an A+ rating with the Better Business Bureau and is certified by WBE and WOBE as a women-owned business. Her message has resonates with businesses, associations, and civic groups.
Dr. Kruger has coached 2000+ startups to succeed and provided marketing research to ADM, AstraZeneca, Bombardier, CVS Caremark, Dow, Harley-Davidson, Sears, and Volusia County. She is a popular guest on syndicated radio shows. For discounts for bulk purchase or to book a speech, please contact Brian Jud.