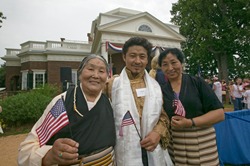 The immigration laws have become very strict. Contact us before the USA doors close completely.
Washington, D.C. (PRWEB) May 29, 2014
Susan Mycko, founder of Citizen USA, is proud to announce a new growth in its international presence: Australian opportunities for US citizenship. Susan Mycko's team of international representatives provide foreigners with the opportunity to buy American businesses, and in turn, overcome the tough visa approval and citizenship process.
"The endless paperwork, delays and red tape were mind-boggling for me, and I was a US Senate employee.
Imagine how frightening and confusing it must be for a foreigner trying to immigrate to the USA," stated Susan Mycko, founder of CitizenUSA.com. " Now enter an unstable world economy into the equation – banks close on a daily basis, the devaluation of various foreign currencies, and daily threat of terrorism for many countries. The need to secure money into the USA economy is imminent – and investing in the USA helps our economy as we climb out of the last decade of economic crisis. It's a win-win."
Susan Mycko has expanded Citizen USA to the Australian market with the hope of offering Australians the chance to live the American dream. Opening businesses and expanding opportunities within the US are now possible with the addition of James Melbourne, Australian citizen and experienced citizenship representative. "We are proud to bring James onto our team," stated Mycko. "He is a seasoned entrepreneur and has emigrated multiple times – he knows the difficulties of getting American visas, and is impeccable in his service to Australian citizens."
James Melbourne, who has lived in Australia for over 17 years, is well connected and capable to help Australian nationals who want to live the American dream by immigrating to the United States. Melbourne helps Australian citizens live legally in the USA with opportunities for new business ownership and economic stability in the USA. With his help and Citizen USA's expertise and services, Australian citizens can have residency within 5 years through an L-1 visa. To obtain an visa as an Australian citizen, call into the US at 305.895.8975. Melbourne can also be reached via email at info(at)citizenusa(dot)com.
"Let us assist you in expediting your immigration to the United States of America. Since September 11, 2001 we have been very busy," stated Susan Mycko. "The immigration laws have become very strict. Contact us before the USA doors close completely."
About Citizen USA
Citizen USA has helped foreigners gain US visas since 2001. After working several years in the US Senate on Capitol Hill in Washington DC, Susan Mycko became very familiar with the various government agencies. At the request of various constituents, Susan Mycko took a personal pledge to help foreigners meet the stringent standards of US Citizenship and Immigration Services (formerly INS). Susan Mycko found the need to invest in the USA economy and to obtain USA residency could be combined rather efficiently to obtain the necessary visa to reside in the USA permanently.
Citizen USA exposes clients to numerous USA business opportunities and investments that will qualify for various visas. Citizen USA provides extremely qualified US Immigration attorneys to complete the transaction.
CitizenUSA.com Seminars provide additional information for those seeking solace in the US.
###