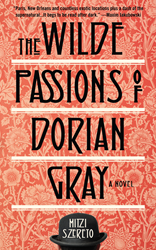 'If you like seeing your favorite characters in flagrante dishabille, then you'll enjoy this passionate and daring novel as a sequel to Oscar Wilde's classic.'—City Book Review
(PRWEB) May 16, 2014
Mitzi Szereto, author of The WIlde Passions of Dorian Gray: A Novel, has penned a piece examining the widespread fascination with Oscar Wilde's character Dorian Gray. The latest show, Showtime's Penny Dreadful, stars Reeve Carney, and breathes new life into Wilde's literary classic; the show focuses on Gray's romantic appeal, describing the character as "catnip to the ladies of London." Szereto theorizes that these modern incarnations of Dorian Gray are inspired largely by the subtle sexual undertones in the classic. "I'm not the only one to have picked up on the cloaked sexuality and homoeroticism in Oscar Wilde's novel, which he was forced to revise and censor in order to even make it "publishable," says the author. "Having been granted the freedom to work without fear of censorship (or a prison term), contemporary writers such as myself have finally been able to portray Dorian Gray as Oscar Wilde no doubt intended."
What People Are Saying about The Wilde Passions of Dorian Gray:
"A gothic, erotic thriller."
—The Huffington Post
"Szereto's use of language is faithful to the original, even in the frequent sex scenes. She's a novelist who knows how to construct a coherent plot, and she treats Oscar Wilde's book with respect."
—The Gay and Lesbian Review
Inspired by Oscar Wilde's classic novel The Picture of Dorian Gray, Mitzi Szereto's Wilde Passions of Dorian Gray continues where Wilde left off with the Faustian tale of a man of eternal youth and great physical beauty who lives a life of corruption, decadence and hedonism. The story begins in the bordellos of Jazz-Age Paris, moving to the opium dens of Marrakesh and the alluring anonymity of South America. In his pursuit of sensation and carnal thrills, Dorian's desires turn increasingly extreme and he leaves behind yet more devastation and death. He ultimately settles in present-day New Orleans, joining with a group of like-minded beings known as The Night People. They inadvertently return to Dorian his humanity when he falls in love with a young woman he rescues from becoming their victim. She will be his redemption, but she will also be his final curse
Mitzi Szereto is an author and anthology editor of erotic and multi-genre fiction and nonfiction. She has her own blog, "Errant Ramblings: Mitzi Szereto's Weblog" (mitziszereto.com/blog), and a Web TV channel, Mitzi TV (mitziszereto.com/tv), which covers the "quirky" side of London.