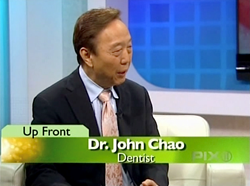 Chao Pinhole Gum Rejuvenation® is quick, easy and instantly pleasing to the patient
Anaheim, CA (PRWEB) May 15, 2014
Dentist, inventor and educator Dr. John Chao is showing the Chao Pinhole Surgical Technique® at the 2014 "CDA Presents The Art and Science of Dentistry" at the AnaheimConvention Center, presented by the California Dental Association May 15 - 17. "The Chao Pinhole Surgical Technique® (PST) is a sophisticated yet simple method to move receded gums to achieve root coverage without conventional gum grafting surgery," says Dr. Chao. "Rather than cutting and transferring gum tissue, the Chao Pinhole Surgical Technique® takes just a few minutes per tooth treated, with virtually no pain and no downtime," he says. "Receded gums are guided down to a healthy position though one or more pinholes made in the gum tissue. After treatment is completed the pinholes disappear quickly," says Dr. Chao. The peer-reviewed procedure is performed with specialized instruments invented and patented by Dr. Chao, who is also an instructor at the USC School of Dentistry in Los Angeles.
Dr. Chao is in the process of teaching the Chao Pinhole Surgical Technique® to doctors who are attending bimonthly training seminars. Over 400 doctors from around the world have been trained since the seminars began in August 2013. For information or to register to attend an upcoming seminar visit http://www.pinholesurgicaltechnique.com or call (888) 603-2953.
A Study of the Pinhole Surgical Technique is published in the October 2012 issue of The International Journal of Periodontics and Restorative Dentistry. Link to the study here.
The Chao Pinhole Surgical Technique® making news around the world and has been featured in many TV news stories across the U.S. Click here to see the story on the national TV show "The Doctors".
"Until the invention of the Chao Pinhole Surgical Technique®, conventional gum grafting surgery was the standard treatment for receding gums," says Dr. Chao. "However, conventional gum grafting requires a scalpel to cut and remove a section of gum from the roof of the mouth which must be sutured in place over the area of recession. Because of the cutting and stitches required most dentists generally will only treat one or two teeth at a time, then the patient will need to heal before having more teeth done," he says.