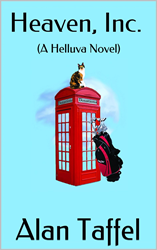 'Unlike Heaven, which was kind of like Los Angeles in that the weather was ideal and you might come across a celebrity or historical figure, Hell was boring….like a bad beach resort.' - Heaven, Inc.
Fort Lauderdale, Florida (PRWEB) May 16, 2014
Controversial author and Emmy Award winning television writer Alan Taffel has debuted his first novel "Heaven, Inc. – A Helluva Novel" as part of Blairmont Publishing's roster of titles.
Using humor to tackle controversial topics, Taffel presents a highly engaging and entertaining plot tackling religion, the afterlife, politics and more through a cast of intriguing characters including a golf playing Devil, a rebellious activist who was a Salem witch, and a wondrous cat named Zoey.
Set between Heaven and Hell, "Heaven, Inc. – A Helluva Novel", tells the story of Marvin Miller who finds himself dead and in a Heaven very different than he imagined. There are no Pearly Gates, no puffy clouds and certainly no winged angels playing harps. In fact, Marvin discovers Heaven is run like a corporation and that he is expected to contribute by holding a job. A job that puts him in direct contact with the Devil, a roguish, rebellious golf fanatic.
As part of Heaven's Management Team, Marvin works to encourage residents to donate part of their souls in order to help create new life on Earth. However, when he falls for Bree, a rebellious activist who suspects the donations are not entirely voluntary, Marvin must confront a literal battle of good vs. evil in the Heavenly realm as well as manage a crisis of epic proportions.
"If you can make people laugh AND think, you've really accomplished something worthwhile," said Taffel, "If this book doesn't get a giggle or a rise out of you, I've done something wrong".
Taffel is a TV writer/producer/director and the winner of an Emmy and multiple CableAce Awards, a guitarist who will never play like Eric Clapton, and an avid golfer who has never shot a hole-in-one or played a game on par. Alan lives with his wife Caryn in South Florida.
Taffel is available for interviews and appearances. For reviews, booking presentations, media appearances, interviews, and more information contact Emily(at)mugsypr(dot)com.