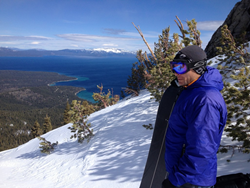 While some snow enthusiasts love their sunglasses, goggles offer more protection from light, wind, and foreign body intrusions.
Cheyenne, WY (PRWEB) August 03, 2014
OutdoorGearLab, a reputable outdoor gear review website specializing in detailed comparative reviews, recently published a review comparing eight Top Ski Goggles. Each product was tested on the basis of how well it performed in the following categories: lens quality, breathability, comfort, style and durability. Testing was performed over a period of two months and involved snowy, windy and extremely bright conditions in the Sierra Backcountry. Once the results were in, these distinctive Editors' Choice, Top Pick and Best Buy awards were granted.
The winners are as follows:
The Oakley Airbrake winner of the Editors' Choice award for 2014. According to Gear Review Editor, Aaron Zanto, "This product offers exceptional lens optics and great protection from the elements. The three layers of foam make for an extremely comfortable and secure fit and offers exceptional protection from the wind yet still does a great job of venting out moisture while skinning uphill. We liked the style and it was a good fit for most size heads. What really made this product stand out from the rest is that it comes with two lenses and we really appreciated how easy it was to change them out."
"The POC Lobes are great for skiing in High Definition," states Review Editor Zanto. He also explains, "The lens quality and optics are so awesome that one of our reviewers actually forgot he was wearing them and drove off wearing them accidentally. The Lobes won our Top Pick award because they let you see crystal clear and also we think that the style is futuristic and cool."
The Spy Targa 3 was the winner of the Best Buy award. Zanto states, "The Targa 3 was such a good deal you should consider purchasing more than one pair. They offer great protection for a day in the snow and the mirrored lens helps protect your eyes from UV glare. Everyone should have a pair of these goggles stashed for emergencies."
Out of Cheyenne, Wyoming and dedicated to producing the worlds finest reviews of outdoor gear, OutdoorGearLab LLC is a free website resource for those who enjoy hiking, camping, backpacking and climbing. Specializing in reviewing outdoor gear side-by-side and publishing the results in complete comparative reviews, products are judged according to specific categories, the competition is ranked and top performing products are awarded. More reviews available at OutdoorGearLab.