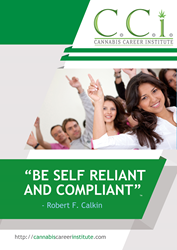 Learning what is expected, is the first step in learning how to operate a successful Cannabis Business.
Gainesville, FL (PRWEB) May 16, 2014
Students in Gainesville, Florida are invited to learn about the cannabis industry this Saturday from medical marijuana business training experts with the Cannabis Career Institute.
Students will learn about the industry from instructors who have been involved in the medical marijuana business sectors in California, Washington and Colorado. CCI has been actively teaching medical marijuana business training to entrepreneurs across the country since 2009.
With Florida laws changing rapidly, entrepreneurs are finding that understanding the industry is the first step needed in order to create a successful business. CCI classes provide students the proper knowledge required to get started ahead of potential passage of medical marijuana legalization in Florida.
Polls are showing that an overwhelming majority of Florida residents are in favor of Marijuana as Medicine. Should the state legalize medical marijuana, as expected, a wide variety of business opportunities will emerge and entrepreneurs will need to learn an extensive amount of knowledge to enter the industry. CCI classes provide business training information for the industry, in a very comfortable setting that allows students to learn, network and even request specialized one-on-one consulting from the instructors.
Robert F. Calkin, the founder of Cannabis Career Institute, is a Delivery Specialist who teaches Delivery 101 at Oaksterdam University. He is also the author of "Starting Your Own Medical Marijuana Delivery Service; The Caregivers Handbook", actively worked with Jack Herer in the American Hemp Council and has been an outspoken activist for Marijuana Legalization across the United States for several decades. Calkin created Cannabis Career Institute in 2009 to help educate individuals on compliance regulations, business implementation, best practices and procedures for the cannabis industry. CCI classes provide information on opening up a medical marijuana dispensary, starting a grow operation for medical marijuana, learning how to set up an edibles operation and how to start a delivery service for medical marijuana patients. Students that attend the all day class are provided with detailed information that allows them to properly organize their business agenda and learn what it will take to make a proper infrastructure work.
The Cannabis Industry as a whole has been called a 600 billion dollar industry and has gathered a lot of interest for expanding cannabis education. With this new industry also comes the potential for new jobs, new business opportunities and a variety of new services. The cannabis industry is expected to come to Florida after November and entrepreneurs need to learn the best way to get involved.
Cannabis Career Institute is welcoming media to the class - outside of the classroom to speak with instructors. For more information on Media Contact Call (800) 753-2240.