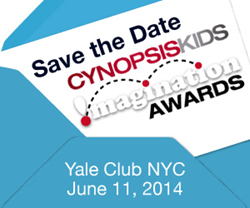 "These four trailblazers are driving our industry forward with great vision." says Cynopsis Kids Editor Cathy Applefeld Olson
New York, NY (PRWEB) May 16, 2014
Cynopsis Kids is pleased to announce the distinguished executives who will be honored as 2014 Kids People at the third annual Cynopsis Kids !magination Awards, 8-10 am, June 11, at the Yale Club in New York City.
Congratulations to: Margie Cohn, Head of Television at DreamWorks Animation for Digital & New Media Executive; Bob Higgins, EVP of Children's & Family Entertainment at FremantleMedia North America for Production Company Executive; Jim Mitchell, CEO of Fuhu for Brand Executive; and Sandy Wax, President of Sprout for Cable/Broadcast Executive.
These children's and family entertainment leaders have each had a stellar year, and Cynopsis Kids will honor them at the third annual !magination Awards, which recognizes the best in kids and family media. "At the core of every thriving industry are its people, and no where is that more evident than in the kids media business," says Cynopsis Kids Editor Cathy Applefeld Olson. "These four trailblazers are driving our industry forward with great vision."
A complete list of the !magination Awards finalists can be found here. Winners and honorable mentions will be featured in a special report of Cynopsis Kids to be distributed after the awards event and to more than 13,500 executives in kids media. For registration questions, contact Pete Romas at pete(at)cynopsis(dot)com. For advertising or sponsorship information, contact VP of Sales & Marketing, Mike Farina at mike(at)cynopsis(dot)com.
ABOUT CYNOPIS MEDIA:
Cynopsis Media is a division of Access Intelligence LLC. The Cynopsis Media family of products includes Cynopsis, Cynopsis: Digital, and Cynopsis: Sports daily e-publications, weekly Cynopsis: Kids and Cynopsis: Classified Advantage e-publications, Special eReports, Event/Summits and a strong database of Classifieds and more. Visit Cynopsis.com.
###