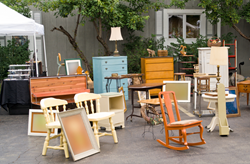 The ability to reach out to our entire neighborhood in real time is immeasureable - Patrick Rentrop
Lafayette, Louisiana (PRWEB) May 16, 2014
Front Porch, an app that allows neighbors to connect and locate products using their iPhone or iPad, is now available from the Apple App Store. The software provides users with an alternative to other social networks by focusing on close-knit neighborhoods and communities. With the new version 2.0, users will appreciate the clean iOS 7 design as well as many new features for buying and selling from the comfort of your home.
Front Porch provides a hyper-local solution for communicating with those within close proximity: Your neighbors. Users can create a virtual garage sale allowing others nearby the opportunity to view items for sale. Users will also enjoy scrolling through the listings of other neighbors.
"Front Porch is about bringing neighbors and neighborhoods together," says Butch Trahan, Front Porch's Chief Visionary Officer. "Buy and sell with your neighbors. Get connected with the people closest to you."
Many social networks are geared toward connecting people who may not even live in the same city or region. While this certainly has its benefits, the goal of Front Porch is to gather neighbors together and create a platform where they can buy and sell from one another all while making new connections.
Where Front Porch really sets itself apart from the competition is the quality of its listings. The app is curated to provide the best value for users. Rather than being loaded with spam, fake listings and irrelevant posts, the items found on Front Porch will actually be useful.
Whether a bicycle, furniture, kids' toys or unused hunting equipment, simply post it on Front Porch and await a response from those nearby. Many people have equipment and items laying around and don't want to deal with shipping it across the country. Front Porch allows users the ability to post these items as a hyper-local listing for all neighbors to see. Everyone could hold a garage sale every now and again to de-clutter and remove unwanted and unused items from the home. Garage sales take time and advertising to assure people will show up. In minutes, post garage sale type items on Front Porch and reach hundreds if not thousands of people nearby.
Some social networks are so vast that they're almost impossible to meet and interact with someone down the street. Front Porch aims to fill that gap.