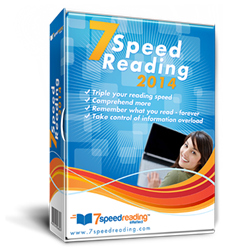 The Cli-Fi community is growing rapidly as more people become passionate about its goal to save planet Earth from environmental destruction.
New York City, NY (PRWEB) May 20, 2014
eReflect, parent company of the 7 Speed Reading™ software system, announces the publication of Dan Bloom's invitation to baby boomers across the globe: to join the new and increasingly popular Cli-Fi community and contribute in their own ways towards winning the race against climate change. The Cli-Fi community is raising awareness of this issue through literature, and the movement is making vital steps towards saving the planet.
Bloom notes that climate change is already underway, and unless people start making the right decisions, knocking at the right doors, and taking matters into their own hands, future generations will likely be faced with a grim, dystopic future. This latest blog post on the 7 Speed Reading™ official site, a site dedicated to information on how to speed read, encourages retirees and everyone else with time to spare to look up Cli-Fi and learn more about this emerging literary trend that highlights the urgency of climate action. As illustrated by the many books in this category, citizens need to take steps to rescue animals, plants, and entire coastal cities threatened by the melting of Earth's ice sheets and rising seas.
As one of the most fervent champions of Cli-Fi today, Bloom is indefatigable as he talks about, writes about, and shares his Cli-Fi and climate change passion with people online and face to face, in conventions, informal meetings, and on the street. As the Cli-Fi Central blogger confirms, "There's a growing cli fi community worldwide now, mostly in English-speaking countries but also in Norway, Sweden, Italy and Spain. We are writers, readers, editors, book agents, publishers — climate activists, too. Have you read a good cli fi novel recently? You will, soon. Seen a good cli fi movie recently? You will, soon."
The Cli-Fi community is growing rapidly as more people become passionate about its goal to save planet Earth from environmental destruction. Bloom's invitation to join the Cli-Fi community extends to people of all ages, professions and ethnicities, as global warming is an international threat people in every country can no longer afford to ignore.
For more information about the benefits of using 7 Speed Reading, please visit the official website at http://www.7speedreading.com.
About 7 Speed Reading™
7 Speed Reading is the only modern speed reading software that uses the latest technology to produce superior results.
The software provides its users with a new way to master speed reading that guarantees three times the reading speed along with improved memory and comprehension.
The software is poised as the most comprehensive speed reading system anywhere. It contains seven learning strategies, fifteen software activities, video training, advanced tracking capabilities and many more exciting features.