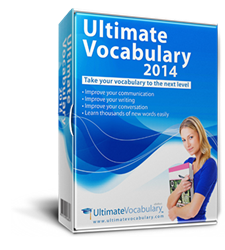 Technology allows learning to become interactive and exciting, and this is particularly true with language learning.
New York City, NY (PRWEB) May 21, 2014
Many young students are drowning in the electronic deluge of social media and because they suffer from the fear of missing out (FOMO) syndrome so common on line, they are often unwilling to unplug and pay attention in school. Teachers can find it hard to win these students' attention, let alone invite them to love and pursue lifelong learning. eReflect recently shared tips with educators around the world, explaining five ways teachers can improve their teaching and, as a result, make learning more appealing for young students.
eReflect is a long-time ambassador of tech-driven learning, well known for its self-development software Ultimate Vocabulary™ and Ultimate Spelling™. The Ultimate Vocabulary™ developers at eReflect suggest that one easy way to instantly make learning more engaging is to excite the student's curiosity with tech-based learning. Instead of using conventional, centuries-old methodologies and tools, teachers are encouraged to employ the latest apps, software, and other online resources to make learning fun, interactive, and interesting. Even social media can be used in the effort, turning it from a distraction into a learning tool.
Another way teachers can help students to cultivate their love for learning is to give them more responsibilities in the classroom. Students' leadership abilities need to be acknowledged and put to good use. When teachers give their students leading roles in the classroom, it helps make those students more confident in their skills and more eager to learn. Eventually, they become better leaders and even teachers themselves.
Technology has many affordable and varied applications in the classroom. Teachers who creatively integrate new technologies in the classroom will win the fight against student indifference. The internet, social media, the cloud, and video communication all open up a vast landscape of learning. What's more, notes eReflect, technology allows collaboration among different student communities, who can learn together regardless of their geographic location. For instance, teachers can organize "Build Your Vocabulary" competitions with students from a different city, state, or even country to make learning vocabulary more fun.
Technology allows learning to become interactive and exciting, and this is particularly true with language learning. eReflect's own vocabulary builder, Ultimate Vocabulary™, is already being used by numerous schools and parents who wish to make learning less dull and more fun for young students, instilling in them an invaluable love for learning along with the information in the exercises. Apart from using technology to improve vocabulary, teachers can employ technology in teaching math, science, or any other class where they need that extra edge to recapture a student's wandering interest.
***********
For more information on how you can benefit from Ultimate Vocabulary, please visit its official website, http://www.ultimatevocabulary.com.
About Ultimate Vocabulary™
Ultimate Vocabulary provides a proven and powerful platform, built to improve anyone's vocabulary.
The interactive self-improvement system provides more learning tools than any other program on the market, as well as more information on words.
The Ultimate Vocabulary software provides each and every user with a personal computer tutor. Providing a step-by-step guide to learning a powerful vocabulary, Ultimate Vocabulary is the learning tool everyone can benefit from.
Of course, the software is also backed by eReflect's iron-clad money back guarantee.