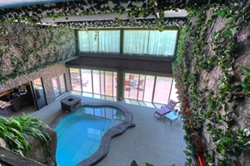 Homossassa, FL (PRWEB) May 16, 2014
An upcoming luxury home auction features a property of impeccably high standards of construction, flexible-use rooms, and extreme attention to detail, announced Higgenbotham Auctioneers International (HAI).
The one-of-a-kind retreat was built by the owner, a commercial contractor, and supersedes the building code in all respects. The home features vaulted ceilings and open areas throughout. Currently used as a five-bedroom private residence, buyers could convert additional rooms to seven or eight bedrooms in total.
Other features include:

95,000 square feet of tongue and grove for interior walls and ceilings
Tri-color hardwood floors in the theater/family room area and living room; custom cabinetry throughout
Two master suites, two kitchens, and two laundry areas
Heated indoor swimming pool with 30-foot cascading waterfall surrounded by a large, artistically designed deck, bar, and entertainment area
Foundation and exterior walls built to flex, ensuring longevity and low maintenance
-H eated/cooled/humidity controlled five-car garage
In addition to the home, HAI will be auctioning personal property, including (but not limited to): 1958 Volkswagen Dune Buggy, Farmall 200 tractor with loader, commercial grade table saw, jointer/planer, Kyocera wide-format blueprint machine & copier, gym quality exercise equipment, 8' Connelly Billiards 1.25" slate pool table with pro cues & balls, and much more!
Visit higgenbotham.com to view photos and details, and call the Higgenbotham office at 800-257-4161 with questions.
About Higgenbotham Auctioneers International
Founded in 1959, Higgenbotham Auctioneers is headquartered in Lakeland, Florida and specializes in the sale of corporate real estate throughout the United States and the world by utilizing the auction method of marketing.
Higgenbotham is an alliance partner of NAI Global and enjoys continuing relationships with Fortune 500 clients such as Alcoa, International Paper, Walmart Realty, and Sinclair Oil, as well as many publicly traded and closely held companies.