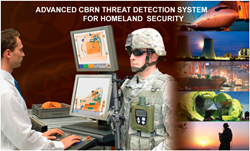 It is time that the planners deploy technological solutions such as DM3 to prevent terrorists from planning and/or carrying out such attacks. These can saves lives.
Princeton, NJ (PRWEB) May 16, 2014
Rapidsoft Systems expands its partnership with Defentect Inc, the maker of DM3 threat awareness system for monitoring and detecting CBRNE threats. Rapidsoft systems will distribute Defentect's security solutions worldwide. These systems can integrate many kind of advanced sensors to provide perimeter defense of critical national or state infrastructure and large industrial installations.
Incidents involving chemical, biological, radiological, nuclear and explosives (CBRNE) agents remain a real threat to populations across the globe. Terrorism that makes use of CBRNE materials poses a clear threat to public health and safety, national security and economic and political stability on a global level. Accordingly, the prevention of such incidents is of the highest priority. However, very few countries or cities are equipped with the suitable systems to detect such threats making them susceptible to terrorism events.
The Defentect Threat Awareness Solution, developed some time ago, is a proven threat-awareness solution for nuclear power plants, hospitals, and other high-value targets. Originally designed for first-responders in a high threat environment, and based on a distributed network of sensors, the system protects and defends by sending real-time notifications to multiple per-designated security command centers when the presence of a threat is detected. The integrated Defentect DM3 system enables customers to add other threat event detection capabilities to their security systems and to easily customize highly configurable alerts when any anomaly is detected and change the notification list. Administrators can designate alerts to be triggered to cell phones, smart-phones, pagers, PDA's and other devices through text messages, calls, or email.
In addition to the supplying the turnkey solution at any location in the world, the Rapidsoft System's Security Solutions team can provide the specialized training, security consulting from the security experts trained in the US.
Commenting on this, Dr. Brijesh Kumar, COO and Head of Technology at Rapidsoft Systems said, "We have all seen terrible events around the world. The countries in Asia are particularly vulnerable to such attacks. It is time that the planners deploy advanced technological solutions such as DM3 to prevent terrorists from planning and/or carrying out such attacks. These can saves lives. "
About Defentect:
Defentect Inc. is a developer and integrator of advanced homeland security technological solutions. It is based in Connecticut, USA.
About RapidSoft Systems, Inc.
Rapidsoft Systems, Inc. (http://www.rapidsoftsystems.com) is a leading Outsourced & Offshore Software Product Development company with headquarter in the United States and product engineering centers in United States & India. It partners with technology companies and software-enabled businesses to help them bring quality software products to market through dedicated or on-demand offshore engineering teams. It has a subsidiary, Mobisoft Technologies (http://www.mobisofttechnologies.com) dedicated to mobile applications development located in Noida, India.
Rapidsoft Systems, Inc. has its main office in Princeton, NJ, USA, a US R&D Center in Mercerville NJ, and sales, support and development offices in Palo Alto, CA, USA, Dubai (UAE), and Noida (India).