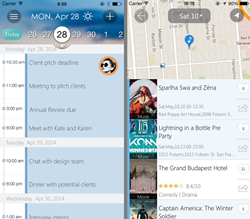 Kiwi Calendar is the only on-the-go social calendar for iOS on the market that helps balance your work and offline after-work life.
San Francisco, California (PRWEB) May 29, 2014
Kiwi Calendar, the next generation social and smart calendar, is announcing the launch of its first mobile app, available for free in the Apple App Store. With a painstakingly designed elegant user-interface and a smart recommendation engine under its hood, Kiwi Calendar is the only on-the-go social calendar for iOS on the market that helps balance your work and offline after-work life.
Despite a long history of online calendars, contemporary calendars overemphasize the importance of trivial organizational features (for instance, calculating the minutes in your commute to the client's office), and provide minimal benefit to the general well-being of its users.
"Kiwi Calendar was first built as an office calendar that PapayaMobile had been using internally, and we eventually came to the realization that online calendars had really not evolved much," said Si Shen CEO and founder of PapayaMobile. "We recognized an opportunity to re-envision the next generation calendar that would truly benefit users, so we took a leap of faith and created a social calendar that isn't just another organizing app."
Uniquely positioned as a personal assistant to understand that in our busy work schedules we're not making enough time to enjoy life after work with friends, Kiwi Calendar is an app whose benefit to users extend into the after-work hours.
Kiwi Calendar on iOS, like its Web version, is powered by artificial intelligence and a proprietary machine learning algorithm that analyzes its users' routines, location, relationships, and interests. In the spirit of helping users enjoy life and encourage spending time with the people that matter, Kiwi intelligently understands its users' personal tastes and recommends fun and relevant offline activities based on its users' real-time location and availability. These user-tailored recommendations include local concerts, movie showings, and fun events Facebook friends plan on attending.
"As Internet users today spend more time plugged into the Web at work, they're seeking apps and devices that improve their offline well-being and relationships," said Shen. "Knowing this, the Kiwi team developed a Web app and pocket-sized companion on iOS to manage life during and after work by lending a digital helping hand that strikes a balance between the best of both worlds."
Not to forget the underpinnings of a true social calendar, Kiwi Calendar carries the hallmarks of a mobile social app packaged in a beautiful and easy-to-navigate interface. Users can conveniently share calendars with friends and co-workers, quickly schedule events on Kiwi with friends, and instantly communicate with event participants by sharing in-app messages, emoticons, and photos. By keeping the user experience in mind during the design phase, these features and more have been designed to be no more than two taps away.
Kiwi Calendar's complete features include:

Effortless syncing with Google Calendar: Sync events instantly and automatically between Kiwi and Google Calendar.
Smart recommendations: Find Kiwi-recommended events nearby your real-time location, schedule permitting, or attend events Facebook friends have RSVPed.
Movie showtimes: Click on recommended movies to display showtimes at nearby theaters.
Concert recommendations: Find local concerts suggested by interest around your real-time location.
Agenda view: View past and future events, recommendations, friends' events, and the weather forecast.
Calendar sharing: Share calendars with friends to view their availability.
Event page: Settle on a time and location to create or join in on events created using Kiwi Event pages, and chat with participants through messaging, photo sharing, and file uploading features.
Instant photo sharing: Quickly share photos with friends on any events page using Kiwi Calendar's unique photo sharing button, appearing on the Agenda View during an RSVPed event.
Connect with Facebook and LinkedIn: Add contacts from social media to Kiwi. See Facebook friends' public events and join in.
Reminders: Be reminded of upcoming events by way of emails and/or pop-ups.
Download Kiwi Calendar on iOS from the App Store: https://itunes.apple.com/us/app/kiwi-calendar/id797639345?ls=1&mt=8
To learn more about Kiwi Calendar, visit http://kiwicalendar.com.
About Kiwi Calendar
Kiwi Calendar is a smart social calendar for discovering exciting new ways to balance busy lives. Elegantly designed to manage your lifestyle, and not only your life in the office, Kiwi intelligently suggests fun local activities that you'll enjoy with the people that matter to you. Kiwi Calendar uses proprietary artificial-intelligence and machine learning algorithms to analyze your interests, relationships, real-time location, and availability to deliver personally tailored event recommendations directly to you. Make the most of your time.
Kiwi Calendar is available on both iOS and on the Web. For more information, visit http://kiwicalendar.com.