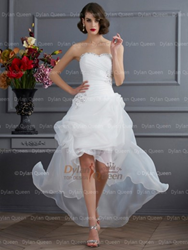 (PRWEB) May 18, 2014
Recently, Dylan Queen, a well-known wedding dress manufacturer and retailer, has happily announced its new range of A-line evening dresses. Most items in the new collection are priced under $200. In addition, the company has launched a special offer on these fashionable outfits; they are now available at discounted rates, from 20 to 85 percent off.
The experienced workers of Dylan Queen are excited to launch the promotion; the aim of the special offer is to expand the company's global market. Having been working in the fashion field for years, they know well about customer needs. None of them compromise on product quality. Instead, they persist in making the most beautiful items at the lowest possible prices.
The company's fresh collection of A-line evening dresses is especially made ladies who want to leave a great impression on others. They are excellent in terms of color and style. Each of them is made with comfortable to wear materials and provided with an affordable shipping fee.
It is worth mentioning that ladies of any shape can find their dream dresses on Dylan Queen's website. The company's product line is filled with various kinds of graceful dresses, including bridesmaid gowns, formal gowns, wedding gowns, prom gowns and so on. Its kind designers are always ready to help old and new customers.
About Dylan Queen
Dylan Queen is a reliable dress company. At its one-stop website, it offers a wide variety of chic dresses, including prom dresses, evening dresses, bridesmaid dresses, formal dresses etc. Its aim is to provide worldwide customers with fashionable gowns at acceptable prices. It frequently updates its website with new assortments.
For more details of the company and its products, please visit: http://www.facebook.com/iDylanQueen or http://www.dylanqueen.com/evening-dresses/.