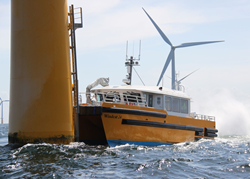 The acquisition of Manuplas enhances AI's market diversification by providing further penetration into our existing offshore markets whilst simultaneously increasing our presence and breadth of product offerings in the marine sector
Gloucester, UK (PRWEB UK) 16 May 2014
Commenting on the acquisition, Advanced Insulation's managing director Andrew Bennion says: "The acquisition of Manuplas enhances AI's market diversification by providing further penetration into our existing offshore markets whilst simultaneously increasing our presence and breadth of product offerings in the marine sector."
Founded in 2003, Manuplas specialises in the manufacture and supply of floatation and protection products for the global marine and offshore energy markets. Its in-house design and development team provide innovative bespoke solutions from concept to manufactured product using sprayed, cast and moulded polymer systems.
Through substantial investment in research and development, Manuplas' product range also now includes market-leading solutions for the rapidly growing offshore industry, where lightweight buoyancy materials for use in depths in excess of 3000m are required. Products include sub-surface buoyancy and subsea protection products such as pipe laying floats, umbilical floats, installation buoys, modular subsea mooring buoys, distributed buoyancy modules, piggyback saddles, subsea cable protection systems and ROV buoyancy.
The growth of the renewables industry, particularly offshore wind farms, has driven Manuplas to spend the last 10 years developing leading concepts for fendering systems mounted on wind farm support and crew vessels such as modular bow fenders. The company's marine range of products includes mooring buoys, navigation buoys, marker buoys, floating fenders and boat fendering.
Manuplas has a highly-skilled team of over 50 employees at its two manufacturing plants in Plymouth, the second of which was acquired in early 2013 to accommodate the increase in production of offshore products and further improve general productivity.
Advanced Insulation has achieved exceptional growth in the past six years, increasing turnover from £3m in 2008 to £20m in 2013. This performance will allow significant investment in both companies and mean that Manuplas can continue to establish itself in a niche market where its products and services are already proving extremely successful.
As a result of the recent developments, Manuplas has dissolved its commercial reseller and distribution agreements with Fendercare Marine.
For further information on the acquisition, call Advanced Insulation on +44 (0)1452 880880, email sales@aisplc.com or visit http://www.aisplc.com.
Gloucestershire-based Advanced Insulation is a leading manufacturer of technical coatings, including specialised fire protection and thermal insulation materials, for the upstream oil and gas industry; and specialises in the manufacture and application of unique syntactic phenolic resin based foam insulation and fire protection systems.
Since it was formed in 2007, Advanced Insulation has become a single source provider for insulation and fire protection systems and represents one of the most respected and progressive names in topside and subsea insulation worldwide. The company's products are now qualified and used worldwide by major oil and gas companies – including Total, ConocoPhilips, Chevron, Samsung, BP, Statoil, ONGC, ENI Woodside, Talisman and ExxonMobil – and their engineering and fabrication contractors.