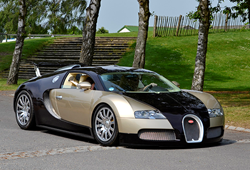 (PRWEB UK) 20 May 2014
The Wealth and Assets Survey published by the Office of National Statistics on 15th May estimates the wealth of the UK population in terms of the assets they own.
WeLoveAnyCar.com highlights an important component of personal assets; the car. The average value of a car used by government is £5000 but figures don't include multi-car owning households.
A WeLoveAnyCar.com spokesman said, "The equity UK motorists have is overlooked by most commentators, and is a major component of wealth in the UK.
"UK car buyers are underserved when it comes to finding out information on the best cars to buy. Top Gear presenters Clarkson, May and Hammond focus on looks and performance but, from a wealth point of view, motorists need to know which cars hold their value, the models that cost less to run and those with the best reliability."
There are over 32 million cars registered on UK roads. Whilst a number are owned by companies and leasing organisations, the majority belong to the public.
The demographics of car ownership have changed. Department of Transport statistics published in April 2014 show Women bought 1.6 million more cars in the last 10 years whilst men owning cars has only grown by 600,000.
Further analysis by WeLoveAnyCar.com mined from millions of lines of data published by government reveal the biggest growth in car ownership is among women aged over 50.
Britain's mobile wealth is not only confined to cars. Information published includes details of boats, caravans and motorbikes worth another £40 Billion.
Personalised number plate ownership has increased by 8% in the last 6 years. 1.5 million people have a number plate which means something to them, their friends and their pockets.
Whilst the government wealth survey is informative, figures issued do not necessarily reconcile with those published by other government departments such as the Department of Transport. The total value of Britain's cars is far higher as many houses have more than one car.
The disparity between people who have a car and those who don't has fallen slightly with 25% of the measured population not owning a car. A more detailed analysis reveals that city dwellers have seen car ownership drop whilst people in rural areas have been forced to buy a car because of falling public transport availability.
The WeLoveAnyCar.com car review site holds the views and reviews of over 540,000 motorists and gives an insight into key costs of ownership – fuel economy and reliability – and is available free to motorists.
The WeLoveAnyCar.com spokesman said, "In cash strapped Britain, hardworking motorists are advised to read reviews and views of cars by the most important people: car owners who have lived and paid for a car over the long term."