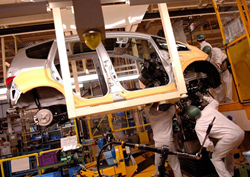 Wellingtone has helped us to understand the correlation between training benefits and project outcomes. The statistics will become more quantitative, but already the trends are clear and we can see the benefits of our new approach. Nick Mackey, HUM
Swindon, UK (PRWEB UK) 3 June 2014
The Swindon manufacturing arm of global car manufacturer Honda is reporting tangible business benefits thanks to a new approach to project management skills and frameworks, as announced today by its delivery partner, Wellingtone Project Management Ltd.
CEO of Wellingtone, Vince Hines, has today announced that the company's partnership with Honda of the UK Manufacturing Ltd (HUM) is already set to positively impact on £50M worth of the client's European business - with a further £95M in the pipeline – by ensuring that the baseline is set to measure the impact of streamlined project management approaches on performance, efficiency and the financial bottom line.
Specialists in project management training, recruitment and Microsoft Project Server consultancy, APM accredited trainers Wellingtone have provided HUM with comprehensive support to achieve the company's strategic aim of streamlining its project management skills, consistency and collaboration for optimised performance across its production capabilities. The programme, exclusively designed for HUM, has included the standardisation of key project management frameworks and documentation plus the design and delivery of a two-day bespoke training course for key staff.
Speaking alongside Hines, Nick Mackey, Training and Development Co-ordinator at HUM, explained the business case for the new approach which – unusually in the PM arena - has been led by HUM's Training and Development Department.
"Entire sections of our teams are focused on engineering, IT, cost initiatives, basic stability and structural projects, so we have huge amounts of logistical work that require effective planning and management," Mackey said. "We identified the need for a consistent approach to bring those isolated project pockets together. We needed to make the PM model feel like it was by Honda for Honda."
According to Mackey, Wellingtone responded by "analysing the procedures we already had in place, adapting and standardising our frameworks and bringing all components together into a bespoke training programme that would suit our strategy. In addition Wellingtone is suggesting practical strategies to achieve crucial buy-in, as well as adding value with training in Microsoft Project to align staff training with our enterprise management systems."
Far from a box-ticking exercise, the training and development programme has been designed from the outset to deliver a sound business case for future improvements, Mackey said. "Supported by Wellingtone, we have developed a baseline for measuring the impact and cost benefits of the approach we're implementing. Wellingtone has helped us to understand the correlation between training benefits and project outcomes. The statistics will become more quantitative, but already the trends are clear and we can see the benefits of our new approach."
Hines was similarly enthusiastic about progress so far. "To see a Training and Development department embracing new project management techniques is a great pleasure" he said. "Our work with them has sparked a valuable internal debate around the advantages of moving from the heavy document driven approach to a modern project management approach. This is a prime example of how our holistic, flexible delivery can help clients to achieve streamlined excellence in a lean environment. We aim to be project management partners in the truest sense, and that offer is now enhanced by our status as a fully accredited training partner of the Association for Project Management."
Plans to roll out the project across the manufacturing plant are already underway, according to Mackey. "At the moment approximately 50 people in key roles are waiting for training," he explained. "We're aiming to establish a strong project team structure in the business, so that the different departments can achieve a greater understanding and consistency across our projects and ensure we are using the best of what emerges from our parent company in Japan."
About Wellingtone
Established in 1995, Wellingtone Project Management Ltd. is a specialist project management consultancy working with cross-industry public and private clients across the UK and internationally. The company works in partnership with clients to maximise their project success. Services include in-depth, "fit-for-purpose" analyses of current methods, training in best practice, recruitment drives and implementation of project and portfolio management technology solutions including Microsoft Project Server. The company is a Microsoft Certified Gold Partner and an APM accredited project management trainer.
About HUM
Since 1989 Honda's Swindon manufacturing plant has been responsible for critical product output in the European market, now producing more than 600 cars every day. The fully integrated facility produces innovative products for the European market, across a site that includes two car plants, an engine manufacturing facility and a purpose built test track. The facility is certified under the Eco-Management and Audit Scheme (EMAS), and is ISO 14001:2004 and OHSAS 18001:2007 qualified.