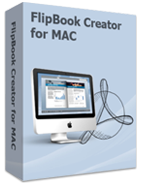 (PRWEB) May 18, 2014
FlipBook Creator Software is making the eBook reading experience even more pleasing, attractive and synergistic with the benefit of green and instant access of eBooks, along with a recapturing of the best features of the print book encounter. With FlipBook Creator for Mac, readers can convert eBooks using the Flipbook Software and then enjoy a three dimensional reading experience featuring realistic page turn effects, templates, backgrounds and scenes which duplicate the print book reading experience. PDF to FlipBook for Mac is a compelling reality through the use of this software.
FlipBook Creator for Mac is the top shelf flipbook software for Mac users. It is a great tool that allows Mac users to create stunning flash & html5 flipbook from PDF in munities. Flippagemaker Software Co. offers guaranteed good service after the sale by providing full upgrade and support service.
Tomorrow, May 19th, 2014, eBook readers, digital publishers, and independent authors can visit http://www.bitsdujour.com/software/flipbook-creator-for-mac to obtain the FlipBook Creator for Mac software at heavily discounted prices. The discount is up to 65% off. Users can purchase a single user license of the software for only $34.65, while the original price is $99.
FlipBook Creator for Mac comes with a vast array of characteristics that enlarge the boundaries of the reading experience. Readers can share their flipbooks through popular social networks, as well as build a digital library and use a dynamic storytelling feature.
With this software, readers can integrate their books with Search Engine Optimization and Google Analytics. Preservation of hyperlinks, tables of contents and bookmarks is also a benefit of FlipBook Creator for Mac.
For any questions of the software and the discount promotion, please submit a ticket to Flippagemaker support team.