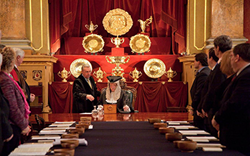 Although unknown to many, the Trial of the Pyx is one of Britain's oldest and strangest legal procedures. The fact that it has been going for 800 years shows that it still has a vital role to play in the coin production process
London, UK (PRWEB UK) 16 May 2014
In a ritual that dates back 800 years, The Royal Mint won't release new coins to the public until subject to intense scrutiny by the Chancellor of the Exchequer and a select judging panel. The Trial of the Pyx determines that stringent quality control measures including chemical tests and metal composition have been carried out on all new release coins. It's a lengthy process, but one that protects the public and businesses from fraud and other potential coin usage problems.
According to a news report published by Jeremy Hodges and Kit Chellel on May 6, 2014 on Bloomberg's online channel, this year's Trial of the Pyx was probably the most intensive and stringent yet. It saw jurors take six weeks to painstakingly examine about 46,000 coins from the UK and New Zealand.
The coins ranged from run of the mill coins to a one-kilo gold coin valued at £50,000 ($85,000), commemorating the birth of the newest member of the British royal family, Prince George.
By getting the composition right which includes metal content, weight, size and shape of the coins, the jury ensures that new coins are counterfeit proof and fit for use in all coin operated devices. It's a process that saves a great deal of time, money and possible frustration.
No one seems to know what would happen if the coins didn't pass the test. "That hasn't happened in a really long time," said Tom Almeroth-Williams, the communications officer for the Goldsmiths' Company. "The Royal Mint has very stringent standards."
After this year, the procedure, named after the Latin word for chest, will have a new object to scrutinize. In March, the Chancellor of the Exchequer, George Osborne announced that The Royal Mint Ltd. would create a new one-pound coin to help reduce counterfeiting. It will have a twelve-sided angular shape, unlike the smooth outline of the current version, and will have special technological features that, the Royal Mint says, will make it the world's most secure coin.
Elliot Basker, Online Business Manager, Hallmark Coins, said, "Many people take it for granted that the coins used in everyday life have been through a stringent process to ensure that they carry the mandated composition of gold, silver, platinum, copper nickel or zinc. Without these processes in place, people would be inconvenienced by not being able to use them in say vending machines and possibly at worst case scenario, defrauded by counterfeiters."
With coins carrying the right composition of necessary metals, numismatists can sleep easy knowing that in future the coins of today will stand the test of time and accumulate in value. And that can only be good news for them and independent coin evaluation experts.