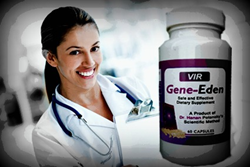 We recommend that anyone concerned about developing shingles, or depression due to the presence of the VZV, talk to their doctor about Gene-Eden-VIR and Novirin. - Mike Evans, polyDNA
Rochester, NY (PRWEB) May 22, 2014
The presence of the varicella zoster virus (VZV or herpes zoster virus), which causes chickenpox and shingles, has also been linked to the development of major depression. "Previous studies have shown that herpes zoster and postherpetic neuralgia were associated with anxiety, depression, and insomnia (1)." This study followed patients from the year 2000 through 2010. It found that "those with herpes zoster had a higher incidence of developing major depression… (and the virus was) … an independent risk factor for major depression (1)." polyDNA recommends that individuals concerned about the effects of a VZV infection talk to their doctors about Gene-Eden-VIR and Novirin. The antiviral formula of these natural products was shown to reduce viral symptoms in two post-marketing clinical studies that followed FDA guidelines.
Another study reported that "in the United States, the incidence of HZ exceeds 1% per year in persons ≥60 years of age; more than a million new cases occur each year; and one-third of the population is expected to suffer HZ during their lifetime - numbers destined to increase with the increasing age of the population." (See Clinical Infectious Diseases, from April 2013) (2). In other words, as the population ages, the number of patients with herpes zoster will increase, and the numbers of those with major depression may also increase.
WebMD notes that the pain associated with Shingles can also lead to depression. "Postherpetic neuralgia (PHN) is the most common complication of shingles. It lasts for at least 30 days and may continue for months or years. This pain may make it difficult for the person to eat, sleep, and do daily activities. It may also lead to depression." (See WebMD, last updated December 18, 2012) (3).
"After you get chickenpox the virus remains inactive…in certain nerves in the body. Shingles occurs after the virus becomes active again in these nerves after many years. The reason the virus suddenly becomes active again is not clear. Often only one attack occurs. Shingles can develop in any age group. You are more likely to develop the condition if: you are older than 60, you had chickenpox before age 1, and your immune system is weakened by medications or disease." (See Medline Plus, Last Updated on June 6, 2013) (4).
"We recommend that anyone concerned about developing shingles, or depression due to the presence of the VZV, talk to their doctor about Gene-Eden-VIR and Novirin, the most effective natural antivirals on the market." - Mike Evans, polyDNA
Novirin shares the same formula as Gene-Eden-VIR. The difference between the two is that Novirin has higher quality, more expensive ingredients. The Novirin/Gene-Eden-VIR formula was tested in two post-marketing clinical studies published in September 2013 and March 2014, respectively, in the peer reviewed medical journal Pharmacy & Pharmacology. However, Novirin contains higher quality, more expensive ingredients. These ingredients were selected to fight latent viruses even more effectively than Gene-Eden-VIR.
Interested individuals can view the two published studies here, http://cbcd.net/Gene-Eden-VIR-Clinical-Study.php and http://cbcd.net/Gene-Eden-VIR-Decreases-Fatigue-Clinical-Study.php.
In a post marketing clinical study published on August 12, 2013 in the medical journal Pharmacology & Pharmacy in a special edition on Advances in Antiviral Drugs, researchers showed that the product that delivered the Novirin/Gene-Eden-VIR formula is safe and effective (5).
Additionally, up to 70% of those studied reported a decrease in symptoms associated with a latent viral infection, and users of the Novirin/Gene-Eden-VIR formula experienced an increase in overall health (5).
Each ingredient of Novirin was chosen through a scientific approach. Scientists scanned thousands of scientific and medical papers published in various medical and scientific journals around the world to identify the highest quality, safest, most effective natural ingredients that target latent viruses.
A second clinical study showed that the Novirin/Gene-Eden-VIR formula decreased physical and mental fatigue. (See Pharmacology & Pharmacy, from March, 2014) (6).
Individuals can learn more about Novirin at http://www.novirin.com. All orders of Novirin are completely confidential, and no information is shared or sold to any third party. Privacy is assured.
References:
(1) Risk of depressive disorder among patients with herpes zoster: a nationwide population-based prospective study. Published on May 7, 2014.
http://www.ncbi.nlm.nih.gov/pubmed/24804885
(2) Varicella zoster virus-specific immune responses to a herpes zoster vaccine in elderly recipients with major depression and the impact of antidepressant medications. Published in April 2013.
http://www.ncbi.nlm.nih.gov/pubmed/23413415
(3) WebMD - Shingles Health Center. Last updated on December 18, 2012.
http://www.webmd.com/skin-problems-and-treatments/shingles/shingles-symptoms
(4) MedlinePlus - Shingles. Last updated on June 6, 2013.
http://www.nlm.nih.gov/medlineplus/ency/article/000858.htm
(5) Gene-Eden-VIR Is Antiviral: Results of a Post Marketing Clinical Study. Published in September 2013.
http://www.scirp.org/journal/PaperInformation.aspx?PaperID=36101#.U056hVWSz90
(6) Eden-VIR Decreased Physical and Mental Fatigue in a Post Marketing Clinical Study That Followed FDA Guidelines; Results Support Microcompetition Theory. Published in March 2014.
http://www.scirp.org/journal/PaperInformation.aspx?PaperID=44234#.U056t1WSz90
polyDNA is a biotechnology company that develops dietary supplements using the unique scientific method developed by Dr. Hanan Polansky, which is based on Computer Intuition.
In addition to his unique scientific method, Dr. Polansky published the highly acclaimed scientific discovery, called Microcompetition with Foreign DNA. The discovery explains how foreign DNA fragments, and specifically, DNA of latent viruses, cause most major diseases.
polyDNA developed Novirin, an antiviral natural remedy that helps the immune system kill latent viruses.