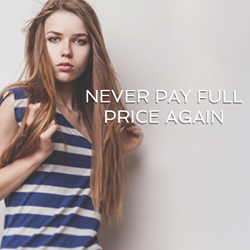 LoveSales offers a unique blend of technology and curated content to bring users a fantastically useful service that helps them save money on products from their favourite brands. It is summed up in our strapline: 'Never pay full price again'.
Birmingham, UK (PRWEB UK) 19 May 2014
LoveSales launches as the latest evolution in the online sales aggregation space, offering a fully responsive digital tool designed to make discounted online shopping a more immersive and interactive experience than ever before.
The site is the culmination of three years' technical development of a dynamic database tracking price movements and sales announcements from leading retailers. This allows LoveSales to offer a full service in online sales aggregation, including user-driven price drop alerts as well as a completely personalised daily updates on the latest sales from top brands across the LoveSales network and beyond.
British Retail Consortium (BRC) figures report the online sales sector performing at a stronger rate than ever before, with online non-food sales growing by 19.2% in January alone (Internet Retailing). Online is becoming the growth engine for retailers, and as this sector develops, innovation to drive personalisation of offerings to the consumer and technology to deliver performance are the vital next steps to differentiate from competitors.
LoveSales have fully embraced the growth prospects offered in this area, developing a tool designed to make bargain hunting and online shopping cheaper, faster and easier than ever before. Unique features include:

A daily handpicked selection of the very best sale items identified across the hundreds of LoveSales brand partners, known as the 'Sales Feed'
A unique personalisation tool allowing users to select their 'Favourite' brands from the LoveSales network.
An email alert feature ensuring users are first to know every time a 'Favourite' brand launches a sale
A 'Latest Sales' feed offering a central place to browse all brands that currently have sale activity, favourite or not
A personal wish list feature, allowing users to 'Pin' items from any website to their 'LoveSales List', tagging each with an alert feature to ensure users are alerted when products drop in price or go on sale
A Pinterest style 'My List' means items from any brand or website will be organised in one place. Users can create collections of items and organise product based on items, outfits, or personal occasions
A fully responsive retail experience, offering a desktop browser button as well as add by email or paste product link product adding mechanism for when browsing on mobile.
LoveSales is 100% free and easy to use. The personalisation features and wish list elements require users to either sign up via email or alternatively using Facebook.
Having launched only three weeks ago, the brand has already seen significant growth in users as a result of focused efforts in social communication across Twitter, Facebook and the LoveSales blog.
About LoveSales:
LoveSales.com helps you save money on products from hundreds of leading online retailers. Launched in May 2014, it is a tech startup based in Bimingham, UK. The team behind it are experienced tech entrepreneurs that have previously launched several successful consumer sites such as SellMyMobile.com.