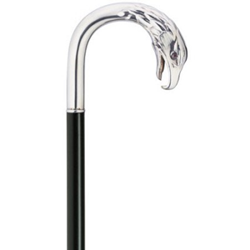 we sell designer fashion canes, and specialty canes imported from Europe,such as those made by the Gastrock Family in Germany, to give our customers an option of a cane which meets their mobility needs while looking fashionable
Jacksonville,FL (PRWEB) May 20, 2014
Years ago, the walking stick originated as an aid for shepherds during travel. It helped with stability, protection against thieves and kept herds in line. Later on it became a symbol of nobility as kings and king's men carried ornate staffs varying from three to six feet in length. By the middle age's it grew to represent noble power and justice as well as was used by religious officials to symbolize their role in the church.
The use of the word cane for a walking stick began in the 16th century, when bamboo and reeds began to be used as shafts. There was a strict distinction between sticks and canes depending on the materials used. Sticks were made of ivory, whalebone, ebony and other valuable woods while canes were made from Malacca or rattan, bamboo and other hardy reeds. A quality cane signified great wealth and social status of an individual. Currently, canes have been used in the United States from everything from fashion statements to a necessary aid for visually impaired individuals.
Preston Pharmacy and Home Medical is pleased to announce the expansion of their line of canes in their e-store. Online, individuals can purchase a variety of styles in a multitude of categories ranging from Horse Designs to Designer Printed. They carry a selection of over 200 in stock in almost every shape, color and size with very reasonable pricing. In addition to their unique designs, Preston is able to custom fit wooden canes for individuals that know the length they need or can come in store.
Tim Stiles, Owner of Preston Pharmacy states, "We sell designer fashion canes, and specialty canes imported from Europe,such as those made by the Gastrock Family in Germany,and other Countries around the World to give our customers an option of a cane which meets their mobility needs and also looks very nice." 
Preston Pharmacy has a commitment to retail and their consumers, priding themselves on offering the best selection of canes in Jacksonville with shipping nationwide. Their e-store has been up and running for the last two years and is quickly growing in selection and popularity. They encourage individuals to come and see what canes and other home medical supplies they have to offer by visiting their website at https://homemedicalestore.prestonpharmacyjax.com/product-category/canes/.
About Preston Pharmacy and Home Medical Supplies: 
Established in 1954, the family-owned and operated Jacksonville pharmaceutical and medical supply store has proudly served the Jacksonville community for over 50 years. The professional staff specializes in prescription services, customized compound, and home medical supplies. Preston Home Medical sells, rents and services medical equipment and supplies. As part of the Jacksonville community, the pharmacy and medical supplies store takes pride in customer service and attention to detail. Each customer's need is taken into consideration at the store and treated as an individual in order to assure you receive the best treatment. They are located at 6022 Atlantic Blvd, Jacksonville, Florida 32211 and also have an e-store that ships nationwide that can be accessed at https://homemedicalestore.prestonpharmacyjax.com/.