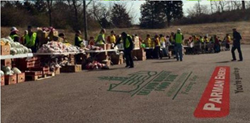 "Being able to volunteer and provide food to families in need was a terrific experience. Knowing that we were making a difference was very rewarding and worthwhile." - Adam Covington, Director of Management Information Systems
Nashville, TN (PRWEB) June 03, 2014
Chevron recognized Parman Energy for their outstanding charitable efforts in the Chevron Lubelink announcements on November 4, 2013. Parman Energy's commitment to their local communities is evident in its involvement and support of several charitable foundations which include Second Harvest Food Bank (Nashville), Chattanooga Area Food Bank, Boys and Girls Club of Rutherford County and the Salvation Army's Angel Tree Program. This was showcased in Chevron's quarterly recognition of community service projects in their Lubelink publication.
In 2013, Parman Energy began sponsoring "mobile pantries" on behalf of Second Harvest Food Bank of Middle Tennessee. In the first year of the program Parman provided 7 tractor trailer loads of food and a significant financial contribution. Parman has created a community awareness program that encourages employees to volunteer at a local charity during a work day. "I love working for a company that allows and encourages its employees to give back to the community. Being able to take time off with fellow employees to help make kids lunches and sort food for those less fortunate is a great way to give back," expressed Parman employee, Joey Baggott.
Along with their financial contribution to Second Harvest Food Bank of Middle Tennessee and Chattanooga Area Food Bank, on several Saturday mornings throughout the past year Parman employees and their families volunteered to roll up their sleeves and personally participate in mobile pantries held at several churches and communities in need. During each event, the food purchased by Parman and with aid from its employees and local food banks was distributed to hundreds of local families throughout the community. The program has proven so worthwhile that Parman has already committed to continuing this level of support in 2014.
About Parman Energy
Parman Energy is the most capable, reliable and dynamic source for quality petroleum products and DEF in the southeastern region of the United States. We differentiate ourselves from our competitors by our commitment to excellence on an everyday basis. This commitment is demonstrated by the company's continual investment in new technologies and ongoing infrastructure improvements, by our recognition in the industry as the market leader and by daily actions of our employees. It is our goal to offer increased value to our customers through quality services, products and partnerships.