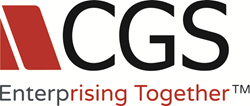 Being recognized for the high quality work we do speaks to the talented group of employees we have and their commitment to customer satisfaction.
New York, NY (PRWEB) May 16, 2014
CGS, a leading global provider of technology solutions and services, announced today they are the recipient of the "Gold Award – Contact Center 2014" given by the Chilean Association of Call Centers (ACEC) at the Contact Center Summit 2014.
The annual award is given to companies that stand out for their work in the contact center industry and exhibit high customer loyalty, performance, innovation and employee care. The Contact Center Summit brings together leading organizations for a discussion on the latest news, trends, and developments in the industry.
At this year's conference, CGS presented on their disaster recovery plan and discussed the recent event that put the plan into action. On March 24th, CGS experienced catastrophic damage to their call center in Santiago, Chile due to a fire. However, their disaster recovery plan, the commitment of their team and swift responsiveness allowed them to continue to provide services to their customers and were fully operational in less than a week after the disaster.
"We are extremely honored to receive this prestigious award from the Chilean Association of Call Centers," said Nicolas Kokaly, Vice President and Country Manager for CGS Chile. "Being recognized for the high quality work we do speaks to the talented group of employees we have and their commitment to customer satisfaction. The fact that we were able to work through the recent disaster and still deliver the high quality services our customers expect is truly remarkable. Our team is truly special and I couldn't be more proud of them."
CGS is recognized as a leader in outsourced contact center solutions, with multiple awards for performance, quality and innovation. CGS contact centers serve some of the leading companies in the world in industries including wireless and cable, consumer products, technology, healthcare, financial services, retail and hospitality. CGS delivers an extensive range of inbound and outbound contact center solutions in over 18 languages, for clients around 40 countries in USA, Europe and Latin America
About CGS
For over 30 years, CGS has enabled global enterprises, regional companies and government agencies to drive breakthrough performance through technology and services. Headquartered in New York City, CGS employs more than 5,100 professionals across North America, Latin America, Europe and Asia. With global delivery capabilities, expertise across leading platforms and deep experience in multiple industries, CGS has become the IT partner of choice for thousands of organizations worldwide. CGS delivers a wide array of proprietary and third-party business applications, technology, business services and business process outsourcing solutions, including customer care, technical support and corporate learning and training. For more information please visit http://www.cgsinc.com and follow us on Twitter at @cgsinc and Facebook at http://www.facebook.com/ComputerGeneratedSolutionsInc.
Contact: marketing(at)cgsinc(dot)com