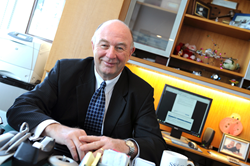 "NRP has assembled a great team, second to none, to carry out and execute the many exciting projects in its pipeline as well as manage its existing portfolio."
Cleveland, Ohio (PRWEB) May 16, 2014
Alan F. Scott, Principal, The NRP Group, announced today he will retire from his position May 2014. As co-founder and principal of The NRP Group, Mr. Scott's primary responsibilities included retail property development, single-family and multi-family home development, and new product development management. Mr. Scott has developed in excess of 200-single-family and multifamily developments that include more than 23,000 units in 18 states. Mr. Scott has also developed several mixed-use and single-family subdivisions in excess of 1,500 lots.
"I am pleased to announce my retirement from NRP. I have sold my interest in NRP to my very capable partners, J. David Heller and T. Richard Bailey," said Scott. "While this was a very difficult personal decision, it was made easier by knowing that NRP will survive and thrive under David and Rick's ownership. NRP has assembled a great team, second to none, to carry out and execute the many exciting projects in its pipeline as well as manage its existing portfolio."
Mr. Scott has been a member of the National Association of Home Builders (NAHB) for more than 30 years, is currently a senior life director of the NAHB as well as a current member of its Federal Government Affairs and Resolutions Committee. He is a life director of the Cleveland Building Industry Association, past president and life director of the Ohio Home Builders Association and is a member of the Master In Residential Marketing (MIRM). Mr. Scott was the 2000 President of the Ohio Housing Council; Ohio's leading Affordable Housing Industry Association and served as a member of the Ohio Housing Finance Agency Board of Directors.
"NRP will continue to be a big part of Al's life and he will continue to serve on the Advisory Board and will partner on various NRP projects," said J. David Heller, Principal. "We have enjoyed and are grateful for an exciting 20 year partnership."
"Al Scott has always had a passion for NRP and it only supersedes his passion for life," said T. Richard Bailey, Principal. "He has always been a strong leader and one who has managed the company to great heights and with perseverance."
The NRP Group is a fully integrated, premier multifamily developer, general contractor and property management company dedicated to producing exceptional results for clients and investors. Founded in 1995 by Alan F. Scott, T. Richard Bailey and J. David Heller, NRP has developed and constructed over 23,000 residential units in thirteen states over the past nearly 20 years, with a strong presence in Texas, Florida, North Carolina, Ohio, Michigan, Virginia, Indiana, New Mexico, and Arizona. NRP Management is a full-service property manager that oversees more than 12,500 luxury, family and senior rental units encompassing more than 100 properties managed throughout 11 states. The NRP Group has over 500 employees nationwide with offices in San Antonio, Houston, Orlando, Raleigh, Cleveland, Detroit, Phoenix, Buffalo and Tampa. For more information, call (216) 475-8900 or visit http://www.nrpgroup.com.