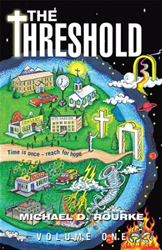 "God transformed my life, and God can transform anyone's life."
Schenectady, N.Y. (PRWEB) May 19, 2014
Michael Rourke didn't always believe God had a place in his life. He spent much of his life questioning its meaning and his purpose as he battled personal and family issues such as undiscovered dyslexia and his father's alcoholism. Laughter, wine, women and song served to balance out his searching teenage years.
At the age of 21, Rourke suffered a traumatic brain injury that wiped away his memory. Diary writing led to lyric writing, both became Rourke's outlet as he healed. Eventually, he began a fast-paced adventure through Hollywood writing songs in a rock band. Ultimately, this career path became his downfall.
Rourke continued his rebellious edge while in Hollywood maintaining the habits of his 'so called' casual drug and alcohol abuse. At the age of 36, Rourke found himself having fallen too deep into this world as his dreams came crashing down. Rourke believes at his lowest point God's grace saved him from a life without true Christian hope, or eternal purpose and placed him into the family of God.
Out of his love for Jesus Rourke began to pen his story about how he received and accepted God's grace into his life on a growing path of purpose to glorify God. In "The Threshold," readers can follow Rourke's heartfelt journey and learn how God can save the most unsuspecting of people.
"God transformed my life, and God can transform anyone's life," Rourke said.
"The Threshold" Volume One
By: Michael D. Rourke
ISBN: 978-1-44976-190-5
Available at Amazon, Barnes and Noble, and Westbow online bookstores.
About the author
Michael D. Rourke is a born-again Christian for 24 years who has had his share of obstacles throughout his life both with and without God. Rourke spent many years writing 260 diaries as resource material for his two volumes.