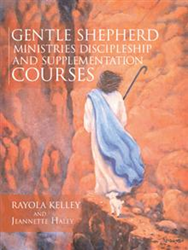 Always examine your life in light of the fruit coming from it and by the complete word of God.
PRIEST RIVER, Idaho (PRWEB) May 21, 2014
How strong is your Christian foundation?
Rayola Kelley, the president and co-founder of Gentle Shepherd Ministries, is helping Christians establish a stronger testimony and example of their beliefs through her study guide "Gentle Shepherd Ministries Discipleship and Supplementation Courses." Throughout the book, Kelley focuses on 41 basic tenets of the Christian faith as well as Bible studies that will equip believers for the challenges that come with a life of discipleship.
Based on Kelley's personal studies and life in the mission field, this course delves into materials beyond the basic teachings of Christianity. She provides a resource for those seeking greater spiritual growth and a deeper insight on Scripture. With this resource, believers will reach their full potential as a follower of Christ.
In a world with many religions and many interpretations of God, spiritual foundations can easily be shaken. Kelley hopes Christians will be able to use this information to develop a foundation in their beliefs solid enough to withstand the potential trials of society.
"Always examine your life in light of the fruit coming from it and by the complete word of God."
For more information, visit http://www.gentleshepherd.com
"Gentle Shepherd Ministries Discipleship and Supplementation Courses"
By Rayola Kelley
ISBN: 978-1-4817-5474-32
Available in softcover and e-book
Available on Amazon, Barnes & Noble and AuthorHouse
About the author
Rayola Kelley has been working in the mission field in America for 25 years. She has been ordained by two different Christian organizations and has been involved in various Christian teaching opportunities. Kelley has written almost 50 books, including "The Christian Life Series," "The Leadership Series" and "More Nuggets From Heaven."