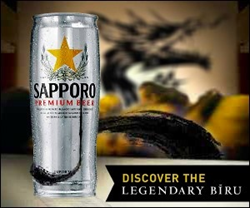 New York, NY (PRWEB) May 19, 2014
Sapporo, the #1 selling Asian beer in the U.S. and Japan's oldest beer brand (http://www.sapporobeer.com), announced today the launch of a $2 million integrated marketing campaign centered on Sapporo's first U.S. television commercial. The campaign – "Legendary Bĭru" – fuses traditional Japanese iconography with a modern, cosmopolitan sensibility. In addition to cable TV placements in major markets, the campaign includes digital and out-of-home advertising, social media, and public relations.
"We are excited to launch our most ambitious marketing campaign in the U.S. to date," said Tsukasa "Louis" Orui, President of Sapporo USA. "Sapporo's share of the Japanese beer market in the U.S. now exceeds 50%, and the time is right to invest in building a new level of brand awareness, volume and market share."
The TV spot, titled "Legendary Bĭru: After Dark," takes viewers into a hip, contemporary party scene where gorgeously animated Japanese icons including a dragon, samurai, cherry blossoms and taiko drums bring the party to life. The spot, created by Canada-based agency DentsuBos, was shot in Cape Town, South Africa. It was produced by Imaginary Forces, and features music and sound design by Vapor Music. Full credits for the spot are available upon request.
"We set out to position Sapporo as a brand for today's premium beer drinkers, while honoring its colorful Japanese heritage," said Claude Carrier, President and CEO, DentsuBos. "The campaign juxtaposes ancient and modern elements to show how Sapporo infuses every environment with the intriguing exoticness of Japan."
The 30-second spot will run on Comedy Central, Discovery, FX, ESPN, A&E, AMC, History and Spike in New York, Los Angeles and San Francisco from May – June, complemented by digital advertising on Hulu, YouTube, Thrillist and UrbanDaddy. A longer 1-minute version of the TV spot was released on the Sapporo website and YouTube today.
About Sapporo U.S.A., Inc.
Founded in 1876, Sapporo (http://www.sapporobeer.com) is Japan's oldest beer brand and the #1 selling Asian beer in the United States. Sapporo lagers have been enjoyed for almost half a century in America, with three varieties – Sapporo Premium, Sapporo Reserve, and Sapporo Premium Light – now available nationwide. Sapporo U.S.A., Inc. was established in 1984 to oversee U.S. distribution, sales and marketing for the brand. Sapporo beers are made from only the finest natural ingredients. The combination of select barley and hops with an extreme attention to quality give Sapporo beers their crisp taste, refreshing flavor, and mild, refined bitterness. Sapporo's uniquely shaped silver can represents the distinctive style and flavor one can enjoy from Japan's most iconic beer.