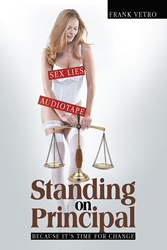 Never once in eight years was I able to tell my side of the story to a police officer, a district attorney, or a judge before my livelihood and freedom were taken from me.
HAMPTON BAYS, N.Y. (PRWEB) May 21, 2014
Life can change in an instant without any warning. On February 8, 2006, Long Island principal, Frank Vetro's life took an unexpected turn.
Vetro was arrested and publicly labeled a terrorist after criminal charges were filed against him. In an instant Vetro was robbed of his life due to deception and lies. In "Standing on Principal," Vetro provides a first-hand account of an innocent man in the justice system and details the tedious struggle to clear his name.
Fluctuating between a narrative and detailed court cases, Vetro provides insight into the workings of the N.Y. judicial and educational systems, from his arrest to his last appeal. He shares his tragic yet inspirational story in hopes of helping others, spurring change, and preventing future injustices.
Vetro lost his career and was forced from his home. Now he rebuilds his life by educating the underprivileged, youths in crisis, and others who have been through the judicial system and need a second chance.
"Never once in eight years was I able to tell my side of the story to a police officer, a district attorney, or a judge before my livelihood and freedom were taken from me."
For more information, visit http://www.frankvetro.com
"Standing on Principal"
By Frank Vetro
ISBN: 978-1483406947
Available in softcover, hardcover, e-book
Available on Amazon, Barnes & Noble, iBook and Lulu