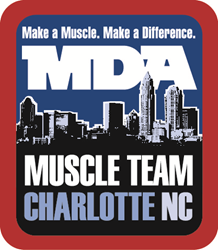 Charlotte, N.C. (PRWEB) May 16, 2014
Charlotte's top professional athletes and local heroes are set to share the spotlight with children served by the Muscular Dystrophy Association at the annual Charlotte Muscle Team® event on Tuesday, May 20 at Bank of America Stadium from 6 p.m. to 10 p.m.
Charlotte Muscle Team is a unique social event that pairs top professional athletes and firefighters, with an "MDA Buddy" (a local child living with a neuromuscular disease) for the evening to raise awareness and funds for families in the Charlotte area served by MDA.
MDA Goodwill Ambassador, and sports fanatic, William Childers, 7, of Charlotte, N.C., is excited to be paired with Olympic Gold Medalist in swimming, Tyler Clary. Tyler is currently training for the 2016 Olympics as part of Team Elite at Carolina SwimMac. The duo will team up for the evening to help spread the word about MDA's life-saving mission to sponsors, families and other local celebrities in attendance.
WWE Wrestling legend, and longtime friend of MDA, Sgt. Slaughter, will be among some of the pro athletes attending this year's event. MDA will also proudly welcome SwimMac swimmers, Katie Meili, Tim Phillips, Mark Weber and Roy Burch, as well as former Carolina Panther, Thomas Davis and NASCAR driver Mike Wallace to spend the evening interacting with event guests.
The Charlotte Muscle Team event will be held in exclusive Panthers Den at Bank of America Stadium. Participants can meet and greet athletes, coaches, MDA Buddies, local celebrities and business executives while raising money to support local families served by MDA. Visit charlottemuscleteam.com to see all 2014 Muscle Team members.
This year, MDA will present Duke Almon, President at Polytech Services, Inc., with the 2014 Joe Martin Champion of Spirit Award. This annual honor recognizes outstanding individuals in the Charlotte community who make a difference in spreading awareness of neuromuscular diseases and help further MDA's mission to find treatments and cures.
Charlotte Muscle Team 2014 coaches include Ronald G Sherrill, chairman and CEO of SteelFab, Inc., Ellen Ruff, partner at McGuireWoods and Clarence L. Ray, Jr., president of CB&I.
This year's event is also made possible by Title sponsor CITGO, with help from Muscle Team Exclusive Dinner Underwriter sponsor Wells Fargo, Exclusive Premier Auction Sponsor, Piedmont Natural Gas and Hall of Fame Sponsors, including CB&I, Mercedes Benz of South Charlotte, SteelFab, Nucor, and Osprey.
Funds raised at the event directly benefit local families in the Charlotte area served by MDA and the Association's programs of research and health care services, including a weeklong summer camp at Camp Bethelwoods in York, S.C.
About MDA
The Muscular Dystrophy Association is the world's leading nonprofit health agency dedicated to saving and improving the lives of anyone with muscle disease, including muscular dystrophy, amyotrophic lateral sclerosis (ALS) and other neuromuscular diseases. It does so by funding worldwide research to find treatments and cures; by providing comprehensive health care services and support to MDA families nationwide; and by rallying communities to fight back through advocacy, fundraising and local engagement. Visit mda.org and follow us at facebook.com/MDAnational and @MDAnews. Learn more about MDA's mission by watching this video.
– MDA –