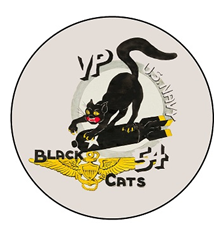 Fredericksburg, Texas (PRWEB) May 18, 2014
On May 22, 2014 the National Museum of the Pacific War will premiere the temporary exhibit Sketches of a Black Cat. The exhibit will bring to life Pilot Howard Miner's writings, sketches and historic photos of the places he had been and the people he met. "The Black Cats" were squadrons of PBY Catalina amphibious planes that were painted flat black, which helped to make the planes very effective nighttime bombers.
The museum will host an exhibit preview on May 22nd from 5:30 – 7 p.m. in the George H.W. Bush Gallery. Ron Miner, who is the son of Pilot Howard Miner, will talk about his father's service and why he wrote the book Sketches of a Black Cat.
On May 23rd at 10a.m Ron Miner will cut the ribbon for the exhibit and conduct a special tour where he will speak in depth about his father and the story of the Black Cats.
Both events are open to the public and no ticket is required to attend them. Ron Miner will be signing his book after both events in the museum store, and the book will be available for purchase in the museum store.
The exhibit will be displayed in the temporary gallery of the George H.W. Bush Gallery on Austin Street. A museum ticket is required to see this exhibit (excluding the two events above). Tickets start at just $14 and discounts are available for military, students, and seniors and are good for 48 hours.
The National Museum of the Pacific War is Fredericksburg's top attraction on Trip Advisor and tells the full story of WWII in the Pacific. Located one block off of Main Street the George H.W Bush Gallery is a must see with 33,000 square feet of exhibit and houses a Japanese Midget Sub, B-25 Bomber, Atomic Bomb casing, and over 900 artifacts.
For more details please visit the museum website at http://www.pacificwarmuseum.org under news and events.
The National Museum of the Pacific War is a Texas Historical Commission property supported, operated, and managed by the Admiral Nimitz Foundation.