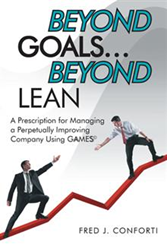 "All too many business books focus on grand concepts that are appealing but not practical."
Chicago, IL (PRWEB) May 19, 2014
Businesses must adopt new concepts in order to, not only serve their customers well, but also to operate more smoothly and efficiently...to become the best they can be.
Fred Conforti wrote his new book, "Beyond Goals…Beyond LEAN" as a guide for executives who want to go beyond traditional approaches to achieve their long-term ambitions.
Rather than rely on sporadic initiatives, Conforti invokes a new method known as GAAMESS to serve as the foundation for leading a continuously improving company with participation and accountability. The book includes diagnostic tools to reveal areas of a company that can benefit from attention, and then goes on to prescribe solutions to attain these newly recognized opportunities.
"All too many business books focus on grand concepts that are appealing but not practical. Beyond Goals…Beyond Lean, on the other hand, provides clear, hard-hitting real-world business advice that executives can use. Fred Conforti knows how to build a business and he shares his years of experience in the trenches in this remarkable book." Tim Calkins, professor, Kellogg School of Business
This informative, enlightening book shows executives how to make their team's culture more engaging, participative, self-reliant, self-monitoring and successful. While this seems like a challenging feat, "Beyond Goals…Beyond LEAN" provides the tools necessary to get any company functioning at a higher level.
"Companies need to be at their best in order to compete in this global economy," Conforti said, "Having a well-defined Plan based on GAAMESS is crucial to success and I am dedicated to helping companies be the best they can be."
As a founder of First Alert, System Sensor and Wyreless Access, Conforti has managed several world-class companies from their roots, helping them achieve increased brand recognition and successful operating dynamics. He has gone on to consult for several companies, where he consistently has seen similar cultural and operational problems and significant unrecognized opportunities, which serve as the anecdotes for his book.
"Beyond Goals, Beyond LEAN"
By: Fred Conforti
ISBN: 978-1-4808-0277-3
Available at Amazon, Barnes and Noble and Archway online bookstores.
About the author
Fred Conforti was a founder of First Alert and oversaw its growth for 22 years. He went on to found System Sensor and help build it from the ground up. He currently resides near Chicago where he serves as the CEO to Conforti Consulting, LLC.