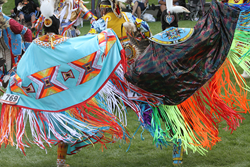 For many spectators, attending the powwow is a new and exciting experience full of color, movement, and celebration.
Cody, Wyoming (PRWEB) May 18, 2014
The Plains Indian Museum Powwow takes place Saturday and Sunday June 21 and 22 at the Robbie Powwow Garden on the grounds of the Center of the West in Cody, Wyoming. Grand Entries are at noon and 6 p.m. Saturday, and noon Sunday. Dancers range in age from Tiny Tots (children 6 and younger) to Golden Age (55 and older). Competitive dance categories include traditional, grass, and fancy for men and boys; and traditional, fancy shawl, and jingle for women and girls.
Arts vendor booths surround the dance arena at powwow and feature authentic Native-made arts, jewelry, photography, beadwork, and more. Space is still available for additional vendors. Interested vendors who are enrolled members of North American Indian tribes and nations are encouraged to e-mail Vendor Coordinator Karen Preis at karenp(at)centerofthewest(dot)org or call her at 307-578-4022 to reserve a space. More information and a vendor registration form can be found at centerofthewest.org/calendar/plains-indian-museum-powwow.
Tickets for the Plains Indian Museum Powwow are available at the gate on the southeast corner of the Center's grounds the days of the event (good for one day only), or in advance at the Center's admissions desk. Gates open at 9:30 a.m. Tickets: $10 for adults 18 and older; $5 for youths 7 to 17; free for children 6 and younger. Center of the West members receive a $1 discount with a valid membership card.
Ticket prices are separate from Center of the West general admission. Dancers and drums participating in the powwow, as well as their family members, are admitted free. This year, the first one hundred dancers (excluding Tiny Tots) who register on Saturday morning receive a $10 gas card.
The Powwow Garden is an outdoor grass amphitheater with limited bleacher seating; visitors may bring lawn chairs or blankets. In addition to the arts vendors, the powwow also features fry bread and Indian taco vendors, Kettle Korn, and other food and beverage concessions.
The Powwow is sponsored through the generous support of Dan and Mary Armour; Whole Foods Trading Company in Cody, Wyoming; Hal and Amalia Ramser; Artie Yellowhorse Jewelry; and Coca Cola Bottling Company in Cody, Wyoming.
Visitors interested in general information may e-mail Nancy McClure at nancym(at)centerofthewest(dot)org or call 307-578-4102. Dancers and drums may e-mail Rebecca West at rebeccaw(at)centerofthewest(dot) or call 307-578-4049. Press and media inquiries should contact McClure.
___________________________________________________________________________
Since 1917, the award-winning Buffalo Bill Center of the West has devoted itself to sharing the story of the authentic American West. The Center, an affiliate of the Smithsonian Institution, is currently open 8 a.m. – 6 p.m. daily.
For additional information, visit centerofthewest.org or the Center's pages on Facebook and Google+.
Images:
Fancy Shawl Dancer Carol Melting Tallow at the 2013 Plains Indian Museum Powwow. Buffalo Bill Center of the West photo by Ken Blackbird.
Men's Traditional Dancers. Buffalo Bill Center of the West photo by Ken Blackbird.
Women's Fancy Shawl dance. Buffalo Bill Center of the West photo by Ken Blackbird.