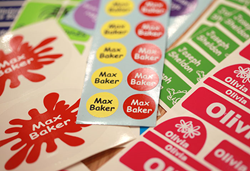 Labels4Kids is showing a year on year growth and following our hiring of new staff, we had to move to new premises to accommodate our growth.
Stirling, Scotland (PRWEB UK) 20 May 2014
Labels4Kids is excited to announce their move into new premises following their year on year expansion. Larger order volumes and the launch of fully translated websites for new countries ensured a year on year expansion for the company and an increase in staff numbers. The online retailer has outgrown its previous location and has now completed its move to a new office in a central location in its hometown of Stirling, Scotland.
Labels4Kids would hereby like to let their customers know they are settled in and more ready than ever to keep up their excellent customer service with an even better location which will certainly make a difference for their customers. Spanish, Swedish, German, and French customers of Labels4Kids will be happy to hear new sub websites are now live in their languages with all the relevant information adapted to their specific countries. Customers in Italy and Portugal also have something to look forward to as sub websites of Labels4Kids' main website for these countries are scheduled to be launched later this year.
The company also adds extra phone lines to be even more accessible for customers and has hired extra staff for customer queries with language capacity in French, German, Polish and Swedish to better serve customers from various countries.
Exciting times are ahead for the Labels4Kids team as the name label specialist is gearing up for the summer - always a busy period. So for all labelling needs, visit labels4kids.com.