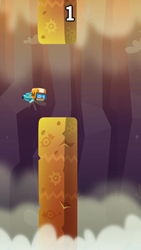 "We wanted to come out of the gate swinging, so we knew that our first game had to be something special, something that pushed the limits of competition...something epic!" says David, App Wave Studios Founder.
Belfast (PRWEB) May 19, 2014
App Wave Studios launches its first mobile game, and Facebook friends are challenged to keep up. Wing Man Free is a free, adrenaline-pumping flyboy video game played between Facebook friends, each one challenging the other for supremacy on the leader board from the comfort of their iPhone, iPad, iPod and Android devices.
Players challenge one another to fly the longest distance they can with Wing Man Free, avoiding oncoming obstacles, such as canyons, and claiming high score on the leader board. Friends from around the world can download the app and sign in from their mobile devices and challenge the leader.
Some of the features of Wing Man Free include:

High quality graphics, for an ultra-realistic gaming experience.
Game Center connectivity, to play with as many people as you wish.
Facebook social integration, so you can take on your friends.
The Wing Man Free app is available for free from the App Store on iPhone, iPad and iPod at https://itunes.apple.com/us/app/wingman-extreme/id866036310?ls=1&mt=8 , or on all Android devices at http://play.google.com/store/apps/details?id=com.appwavestudios.Wingman or by downloading from http://www.wingmanextreme.com .
About App Wave Studios
App Wave Studios is a creative incubator, first imagining then creating virtual world beyond the realm of real life, offering gamers a fantasy world where they can compete for supremacy. The intimate team of gifted designers and coders, based in Northern Ireland, is lead by David Murray.
Contact:
App Wave Studios
44 2890 280597
appwavestudios(at)gmail(dot)com