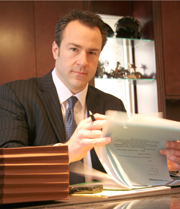 You just never know what can happen; any dog can bite. Owners need to take responsibility and try to prevent bites and attacks from happening.
Detroit, MI (PRWEB) May 19, 2014
Dog-bite Attorney Jason Waechter, of http://www.dogbitelawyersusa.com, wants to remind pet owners of the important role they play in helping to prevent dog bites. "Any breed can bite," says Waechter. "Really, there's no such thing as a 'minor' dog bite incident; any bite can have major repercussions on the victim as well as the pet owner."
Every year, the USPS puts out a list of the cities with the most frequent incidences of dog attacks. This year's list, which came out May 14, shows that almost 5,600 postal workers were victims of dog attacks in 2013. Houston, Texas was the top dog-attack city in the US, with 63 attacks in 2013. Los Angeles, Cleveland, San Diego, and Chicago rounded out the top five. Waechter, who covered this list in a recent blog post, said, "It's unbelievable that postal workers still have to deal with these types of situations. Pet owners should, and I think do, know better than to let their dogs run loose, whether they're friendly or not. You just never know what can happen," he adds.
Dog bite numbers in the United States are staggering. According to a dog bite fact sheet by the American Veterinary Medical Association (AVMA), dogs bite over 4.5 million people each year, and 800,000 of those – half of whom are children – require medical attention. The fact sheet also notes that children are most often bitten during normal, everyday activities by dogs they know.
"Dog bites to children can be particularly traumatic," says Waechter. "When the family pet or a familiar neighborhood dog attacks, kids can suffer from emotional trauma as well as physical injuries. And, while it's important to teach kids how to act around dogs, ultimately it's up to the dog's adult owner to take responsibility and ensure the dog does not bite or attack anybody."
Waechter and his team have successfully handled many dog bite cases over the last 20 years. He believes that more victims need to understand their rights, and why it's important to hire an experienced lawyer to help with their case as soon as possible. "Dog bites and attacks can be awkward for people to deal with. Often, the dog in question belongs to somebody they know," he points out. "An experienced lawyer could help you get compensation, often by dealing directly with the dog owners' insurance company. That way, you wouldn't have to feel like you're 'going after' a friend or family member to ensure all your medical bills, both short- and long-term, are covered. I call these 'friendly claims'."
During Dog Bite Prevention Week, Waechter is challenging all dog owners to be extra vigilant, and encourage other pet parents to handle their dogs more responsibly. "I would love to see a positive change come from this awareness week," says Waechter. "It would be a win for everybody if fewer people, especially kids and postal workers, were victims of dog bites and attacks this year."
On his website, Waechter provides additional free information about dog-bite laws and what steps to take if attacked. He has also personally vetted and formed a network of top dog-bite lawyers across the country, to ensure that he can refer clients to an excellent specializing law firm in the city and state where the dog bite took place, if he doesn't personally handle the case himself.
Jason Waechter has spent two decades cementing his reputation for results. Over the years, he has specialized his practice to include dog bites and attacks. Jason has fought tirelessly for injury victims and contributed significantly to safety education and accident prevention. He has entrenched himself as one of the nation's premier lawyers. If a dog bite, dog attack, or another type of accident has injured you or a loved one, call 1-800-708-5433 to speak with a lawyer who can help.