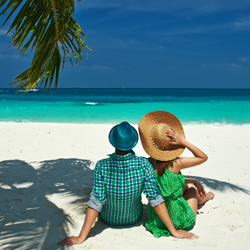 San Bruno, CA (PRWEB) May 20, 2014
Alpha Flight Guru, a business and first class international flight provider, shares its top 3 picks for honeymoon destinations worldwide! This year, so far, has seen strange weather patterns and frustrating flight delays in locations around the globe. With Spring in full bloom and Summer around the corner, it's time to move on to bigger, brighter subjects… like honeymoons, for example. Many newlywed couples start their "honey-funds" long before the big day. Others wait to use their relatives' generous offerings long after the ceremony has passed. Either way, newlyweds want to spend wisely and make sure they'll enjoy their often once-in-a-lifetime trip. Three locations rose to the top of the list for this year's honeymoon destinations:
Location #1 - Maldives
Any person can look at those pictures of the quaint little bungalows on stilts over the crystal-blue sea and think to themselves, "I want to go there!" The Maldives offer a purely romantic and luxurious atmosphere. Think perfect sunsets, white sandy beaches and seclusion. What more could two people in love need to celebrate their nuptials? Although, the journey might be a long-haul, AFG finds this honeymoon destination to be truly worth the effort.
Location #2 - New Zealand
It's hard to look at photos of rich green landscape, true blue waters and even adorable kiwi birds and not picture a perfect honeymoon in New Zealand. New Zealand is perhaps a landscape better suited for honeymooners seeking adventure with their significant other by their side; New Zealand has mountains to climb, rivers to raft and even a region of active volcanoes to explore. Surrounded by beauty and a little sense of danger, this location is sure to bring a couple even closer.
Location #3 - Barcelona
Barcelona boasts vivid colors, excellent cuisine and exotic nightlife and is perfect for couples looking to "spice things up"! Honeymooners choosing this destination may learn to dance the sultry salsa, enjoy amazing architecture and feel passion in every aspect of this trip. Pair this trip with a luxury class seat and a grander hotel and any honeymoon couple will experience the time of their lives.
For information about flight packages to these top destinations and other perfect honeymoon locations, visit Alpha Flight Guru, contact us at 800-359-5175 or visit our Facebook page.
About Alpha Flight Guru
Alpha Flight Guru was founded by a small group of individuals with over 30 years combined travel experience and has been serving the airfare needs of business and leisure travelers alike since 2010. Alpha Flight Guru carries a strong, global online presence with their headquarters based out of San Bruno, California, and additional locations in New York, Arizona and Pennsylvania.
Alpha Flight Guru specializes in business and first class international airfare, and typically saves travelers thousands over competitors by utilizing their extensive knowledge of the airline industry. Accredited by many travel organizations and supported with an 'A' rating by the Better Business Bureau, Alpha Flight Guru provides the best of online interaction and personal phone service.