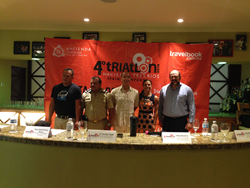 Cancun, Q. Roo, Mexico (PRWEB) May 16, 2014
Sunset World Resorts & Vacation Experiences, with resort properties in Cancun and the Riviera Maya, Mexico, is finalizing preparations for its Hacienda Tres Rios Triathlon on May 18, 2014. Among the 400 participants will be Marcos Velázquez, whose presence will serve as his preparation for the World Triathlon ITU 2014 in Edmonton, Canada.
For the first time in the history of the event, this year a special category will be added for children between the ages of 6 and 15 years old, in addition to the traditional sprint category for youths from age 16 to adult. The children's category for ages 6 to 8 will have a path of 50 meters of swimming. one kilometer of cycling and 500 meters of footrace, while the sprint category will consist of 750 meters of swimming, 250 kilometers of swimming, 20 kilometers of cycling and 5 kilometers of footrace.
According to Germán Fayad, Director General of Sunset World Hotels, on May 17 all athletes will also attend a briefing and receive their participant shirts and packets, carrying the theme of "Accept The Challenge." Participating suppliers will include: Hospiten, Yantra, Electrolite, Info Vital, ADT, Energy Fitness, A de Coco, Elite Cyclery, Elite Lockers, jazzercise®, Cristal, Powerade®, Zoom Photoshop and TravelBook.
In addition to the award ceremony following the triathlon on May 18, Hacienda Tres Rios will hold a "Celebrate The Challenge" party to celebrate the accomplishments of all the triathletes, featuring music, food and beverages, and gifts and surprises from participating sponsors. The event is free with access to the beach and the three rivers of Tres Rios Nature Park.
Sunset World Resorts & Vacation Experiences offers all inclusive plans, its own marina, yacht club, equestrian center, rental car operations, wellness spas, golf privileges and travel services. In addition to the Hacienda Tres Rios Resort, Spa & Nature Park and Sunset Fishermen Resort in the Riviera Maya, Sunset World operates Sunset Royal Beach Resort, Sunset Marina Resort & Yacht Club, Laguna Suites & Spa and Ocean Spa Hotel in Cancun. For more information, go to http://www.sunsetworld.net.