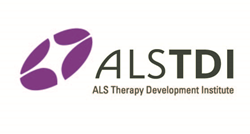 It is imperative for biomarkers in ALS be found
Cambridge, MA (PRWEB) May 19, 2014
The ALS Therapy Development Institute (ALS TDI) announced today that it is hosting a meeting on-site with leaders in academia and Pharma to discuss biomarkers in ALS. The meeting, held in collaboration with The ALS Association (ALSA), brings together 24 leaders from various academic institutions and pharmaceutical companies, including Genentech, Pfizer, Astra Zeneca, Biogen Idec, Bristol-Myers Squibb, Iron Horse Diagnostics, Inc., University of Massachusetts Medical School, Massachusetts General Hospital, SUNY Upstate Medical University, Barrow Neurological Institute, Voyager Therapeutics, The Michael J. Fox Foundation for Parkinson's Research, Weiner Laboratory, Northeast ALS Consortium, National Institute of Neurological Disorders and Stroke (NINDS), ALSA and ALS TDI.
Biomarkers are measurable characteristics that help in the diagnosis of and progression rate of a disease. The purpose of the meeting today is for these leaders to share information and ideas to identify and validate new biomarkers in ALS. The potential benefits of biomarkers for ALS include being able to diagnose patients with the disease faster – a process that can take a year on average to diagnose currently; to identify the speed of disease progression in a patient; and to accelerate clinical trials by stratifying subsets of patients who may respond best to an experimental drug, and therefore produce measurable goals for that trial.
"It is imperative for biomarkers in ALS be found," says Steve Perrin, Ph.D., CEO and Chief Scientific Officer at ALS TDI. "Biomarkers in ALS will provide the foundation for drug developers and researchers in the field to get closer to achieving our shared mission in solving the ALS crisis."
A report following the meeting will be provided by Lucie Bruijn, Ph.D., MBA, Chief Scientist at The ALS Association.
About ALS Therapy Development Institute (ALS TDI)
The mission of the ALS Therapy Development Institute (ALS TDI) is to discover and develop effective treatments for ALS patients today as soon as possible. ALS TDI is the world's largest independent ALS/MND drug development-focused nonprofit organization. In addition to more than 30 internal therapeutic aimed programs, the world's first nonprofit biotech partners with dozens of pharmaceutical and biotechnology companies worldwide in order to advance potential treatments into the clinic. Its lead ALS therapeutic candidate, Novartis' (Switzerland) Gilenya (TDI-132), is in Phase 2A clinical trial for ALS. For more information on its drug development programs, visit http://www.als.net.