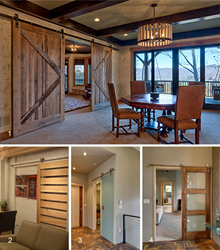 Sliding barn doors can be contemporary in design, and create an amazing and creative opening in the home.
Berthoud, CO (PRWEB) May 18, 2014
Sliding barn doors are often rustic, embodying the warmth and character of the outdoors, the mountains, and even the cowboy west (like image 1 manufactured by Sun Mountain for a beautiful mountain home in one of the exclusive Cliffs developments in western North Carolina). This oversized door (1) is an amazing 9 feet wide (4.5 feet each side) and 8 feet tall, with matching panel braces (sometimes called British braces) that create an "X" or "cross buck" design when the door is closed. The door is made of oak lumber, reclaimed from old barns and granaries from the eastern U.S. It operates on a classic flat-track hardware system, with roller-wheels mounted to the door with wide strap hangers. (Sun Mountain also provided the hardware for this project, and distributes sliding barn door hardware from leading suppliers.)
But sliding barn doors don't have to be rustic, and Sun Mountain today announced the expansion of its sliding barn door offerings to include contemporary designs.
"Sliding barn doors can be contemporary or even modern in design, and create an amazing and creative opening in the home," stated Thad Walton, Vice President of sales for the company. For example, image 2 illustrates a beautiful door with a unique "slotted" design (no glass), manufactured by Sun Mountain in rift and quartered White Oak. This door operates with sleek stainless steel hardware, with large roller wheels running on a rounded stainless steel bar. The roller wheels can be mounted to the top of the door (as shown), or mounted on the face of the door with strap hangers, available in a variety of modern designs.
"Sliding barn doors can even be flush doors, with clean simple lines," stated Mr. Walton. "When coupled with modern barn door hardware, these doors create a stunning look." (see image 3). Image 4 is another contemporary door design—a stile and rail door with glass. This door is made of select walnut, with "white lami" decorative glass.
Click here to learn more about contemporary and modern sliding barn doors.
Founded in 1998 and headquartered in Berthoud, Colorado (near Fort Collins), Sun Mountain is a premier manufacturer of custom doors and wide plank hardwood flooring. The company operates showrooms in Berthoud and Colorado Springs Colorado, Asheville North Carolina, and San Francisco. For more information, including product literature, contact the company toll-free at 888.786.6861 or visit the company's website at sunmountaindoor.com.