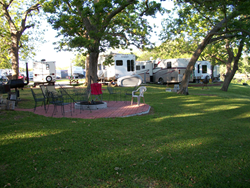 We get up every morning with anticipation of what new experience we will learn that day.
Sargent, Texas (PRWEB) June 05, 2014
David and Diane George worked in the corporate world for more than 25 years. During a vacation at an RV park along a river, the idea struck them to turn their retreat into a long-term business.
"[We] decided that being small business owners and living in a small town next to the Gulf would be a wonderful way to semi-retire before we got too much older," David said.
The couple set their sights on purchasing Caney Creek RV Park, located just five minutes north of the Gulf. The park offers the creek-side living experience and Gulf Coast lifestyle to long- and short-term vacationers. It features beach access without the crowds and all of the conveniences of a local marina.
The couple enlisted the help of Guidant Financial to finance their new business venture using funds from their 401(k). "At first, we thought it would be too overwhelming for our small business. But Guidant made it an easy process," David said.
Both David and Diane enjoy the independence that comes with owning a business. "The freedom of making your own decisions and working to accomplish goals you set for yourself is a real gift," David said. "We get up every morning with anticipation of what new experience we will learn that day."
Caney Creek RV Park is located at 230 CR 285 in Sargent. The grand opening will take place on Sat., June 7, and will feature a community cookout with free hot dogs and soft drinks. For more information, visit caneycreekrv.com, email caneycreekrv(at)yahoo(dot)com or call (979)245-4735.
###
About Caney Creek RV Park
Since 2002, Caney Creek RV Park has offered RV spaces to individuals and families looking for a break from the big city or relief from the cold up north. Located in Sergant, Texas, the park is an hour southeast of Houston and five minutes north of the Gulf Coast. It offers easy access to some of the best fishing locations in Southeast Texas. The on-site fish cleaning station and boat ramp give the conveniences of local marinas without leaving the park. The park also features on-site showers, laundry and a propane-filling station, plus for-rent park model homes. Learn more at caneycreekrv.com.
About Guidant Financial
Guidant Financial helps people create the life they want through innovative small business financing. They are the premier provider of rollovers for business start-ups (ROBS). Guidant's services allow people from all walks of life the freedom to purchase small businesses and franchises using their retirement funds without taking a taxable distribution or getting a loan, in addition to offering traditional funding options such as SBA loans and unsecured credit. Visit Guidant on the Web at guidantfinancial.com.