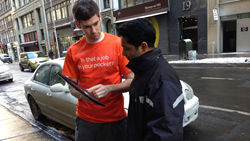 We have been delighted with our progress across the U.S. over the past year. Our initial focus has been the east and west coasts, where we have over 1,000 companies as part of our community and tens of thousand of new members each month.
(PRWEB) May 20, 2014
On May 19, Apploi launched in Chicago, to bring the windy city increased access to jobs. As part of the citywide rollout, Apploi has installed its job search and job application technology into two major malls around the city, Fox Valley and Old Orchard, as well as the Chicago branch of the America Works employment agency. Apploi to date, has predominantly been focused on the east and west coasts, but now brings its mobile-first technology to the mid-west with the goal to broaden access to jobs, and streamline hiring for both employers and jobseekers.
Apploi's unique jobs and hiring platform and ecosystem enable all jobseekers, including those without Internet or computer access to find and apply to jobs from iPad-kiosks installed at job centers, shopping malls and member companies throughout the city. Jobseekers can also apply directly from their own mobile device. The Apploi interactive application that includes video and audio questions, makes the hiring process more instantaneous, effective, and personality-focused for both jobseekers and employers.
Apploi also brings its 1for1 pledge to Chicago to help those communities where Internet access, computers, and mobile phones are scarce. Every time a company or organization buys and iPad kiosk, Apploi donates one to a community center, college, or charity.
"We have been delighted with our progress across the U.S. over the past year. Our initial focus has been the east and west coasts, where we have over 1,000 companies as part of our community and tens of thousand of new members each month," said Adam Lewis, CEO of Apploi. "We are now excited to provide better access to jobs within the Chicago area."