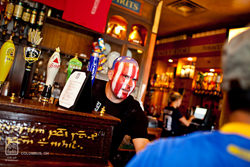 Columbus, Ohio (PRWEB) May 16, 2014
June 12 marks the start of World Cup 2014 and international travelers, expats, and American soccer fans alike at Fadó in Columbus will once again create an unrivaled atmosphere befitting the biggest sporting event in the world.
Here's what passionate soccer fans need to know:
-- The $1 Million Bracket Challenge launches May 15! Accurately predict all 63 matches (all 64 shown live at the pub) and win $1 million! [Terms and conditions apply. See the web for details.]
-- Game Day Predictors: accurate gameday predictions can score you prizes.
-- Instagram Contest: capture a moment of " fandemonium" and win. Fans that snap and share photos on Instagram @fadoirishpub will be entered to win the ultimate fan experience—a trip to the International Champions Cup Final on August 4 in Miami. One winner and a guest will receive airfare, hotel, and tickets for the Super Bowl of soccer.
-- Fadó will show all 64 matches live, plus daily replays of the top matches for the hard core World Cup fans.
-- More international fans (English, French, German, Spanish, Brazilian, Italian, Dutch, African and Greek to name a few) will come to Fadó to watch the World Cup than any other location in the city. And, Fadó offers social and international groups space to reserve during early round games.
-- Fadó will treat fans to a specially priced World Cup menu with appetizers and lunch options paired with featured beers. Plus, happy hour specials are offered during specified times noted on the website.
-- Fadó will offer a variety of World Cup inspired t-shirts for sale. These are available at the pub and online (while supplies last).
World Cup Launch Party: Thursday, June 12 at 4 p.m.
Brazil takes on Croatia to kick off the biggest soccer tournament in the world and the pub will offer food and and drink specials, predictor games, and much more! The $1 Million Bracket Challenge begins on June 12. If fans miss the June 12 deadline, Fadó is offering a second stage to enter with additional prizes.
Other facts:
-- More fans watch World Cup with more viewing occasions than the Olympics, the Super Bowl, and the Oscars.... combined. And, despite being able to watch at home, fans will pack Fadó during World Cup because soccer is a sport best enjoyed in a great pub.
-- Fadó Irish Pub is an Official Soccer Bar of U.S. Soccer. Jersey clad customers will be hanging from the proverbial rafters throughout the tournament and especially during the U.S. Men's National Team games.
-- Fadó serves more European draught beer and more Guinness than any other bar, restaurant, or pub in Columbus. A real fan watching the beautiful game needs the Perfect Pint.
-- Since opening its doors, Fadó has sponsored numerous local soccer clubs and soccer supporters clubs.
-- Fans crowd into the pub on over 100 days every year, to watch exclusive international soccer feeds from numerous countries (Ireland, England, Spain, Italy, Scotland, South America, Germany). No other soccer bar spends more on broadcast fees or opens earlier to show international soccer than Fadó.
-- Even though you could watch at home, Fadó is packed year after year for the most prestigious inter-league soccer match of the year, the Champions League Final on May 24 (the global Super Bowl of Soccer).
About Fadó Irish Pub:
Fadó (pronounced fah-do) Irish Pub was the first Irish pub to be designed and constructed in Ireland and shipped and installed in Columbus, OH. Fadó, an Irish word meaning "long, long ago", is distinguished by its genuine Irish hospitality, quality of its pints, and craic (pronounced 'crack', an Irish word meaning "fun"). Fadó Irish Pub & Restaurant, located at 4022 Townsfair Way, is a favorite of International, U.S., and MLS and Columbus Crew soccer fans. Fadó is a proud member of the Official U.S. Soccer Bar program and is the city's go-to spot for English Premier League, USA Men's National Team, UEFA Champions League, Scottish Premier League, World Cup, and much more.