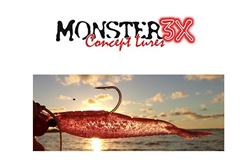 One Bait, Fish after Fish
Miami, Fl (PRWEB) May 20, 2014
"As an avid inshore angler, I am excited to introduce Monster 3X lures to the American inshore fishing community," says Juan Pablo Prieto, President at Monster 3X USA. "Monster 3X lures are constructed with patented durable material. These products are virtually indestructible. They have no rivals."
This award winning Monster 3X lures were created in Brazil by Delano Algayer, a competitive snook fisherman. After using many soft bait in the market and encountering many design flaws, he designed and created a soft elastic component that has become the cornerstone of Monster 3X products. In 2014, Mr. Algayer partnered with Juan Pablo Prieto and Jose Martinez, Monster 3X USA, to be the exclusive distributors in the US.
Monster 3X lures offer features required for successful inshore fishing. Incorporating today's advancement in materials and technology, the patented soft, elastic component allows the bait to stretch and easily slide on the hook, while being tough and resilient. Unlike other soft plastic lures in the market, Monster 3X will not break or slip from the hook. They resist pesky bait fish, such as pinfish and blue fish that regularly attack and destroy competitive soft lures.
Recreational anglers and Captains from Brazil to the Gulf of Mexico, Florida Bay and along the South Eastern shore line have already experienced the advantages of using Monster 3X. Captain Raul Montoro, from Shallowtails.com and Biscaynebayfishing.com, has had much success fishing with Monster 3X. "This is the most durable soft plastic bait I have ever used. Not only is it durable, it has amazing action. These baits hold on your hook and will not slip or twist off your jig heads. I have used the same bait in multiple charters and have caught everything from snapper, redfish, snook, trout, jacks and more all with one single bait," says Capt. Montoro.
Monster 3X products are available in seven life-like designs in various colors, including SHRIMP LURE: UltraSolft, BigM, XMove JERK BAIT LURE: XSwim, PADDLE TALE LURE: Slimshad, Tucunashad and EEL LURE: Xfight. Monster 3X products can be purchased on http://www.Monster3XUSA.com.