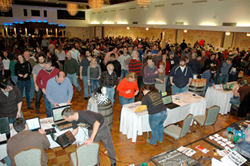 Frederick, Maryland (PRWEB) May 19, 2014
More than 500 trivia players from Maryland and Virginia will descend upon Hagerstown's Hager Hall at 1 p.m. on June 8. Their mission? Vying for more than $5,000 in cash and prizes and Pour House Trivia's Ninth World Series Title!
"The teams come out here ready to eat, drink, and throw down some trivia chops - and the $5,000 prize pool doesn't hurt either," said owner and gamesmith Denny Grizzle. "It's a great time all around for everyone, win or lose."
More than 80 teams culled from Pour House Trivia's 30 venues will vie for the trophy. The teams have been playing free weekly trivia games since January in the hopes of becoming season nine champions.
Pour House Trivia and its venues give away hundreds of dollars in prizes for weekly games.
Pour House Trivia is a rapidly growing live trivia company serving more than one thousand trivia players each week in Maryland and Virginia. Since opening with a single bar in 2009, the company has grown to a dozen hosts providing bar trivia at 30 venues, running six nights each week. For more information about Pour House Trivia, visit http://www.PourHouseTrivia.com.