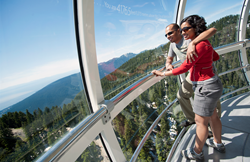 Top 10 reasons for Washington residents to visit Vancouver, British Columbia.
Vancouver, British Columbia (PRWEB) May 18, 2014
Vancouver is alive with color and energy in the springtime, when the temperatures warm up and the sun shines a little longer each day. 604pulse.com, the official website and blog of Vancouver, Coast & Mountains Tourism Region, shares with Washington residents the top 10 reasons to visit Vancouver this May.
1. The view starts before visitors reach the top at the Vancouver Lookout, with a 40-second, glass elevator ride. The 360-degree panoramic observation deck reveals amazing views of historic Gastown, bustling downtown Vancouver, word-famous Stanley Park, the Pacific Ocean and the majestic North Shore Mountains.
2. A welcome point for visitors from around the world, Canada Place is a celebration of Canada. The five sails provide a stunning landmark against the skyline and it is home to FlyOver Canada, a flight simulation ride that has visitors soaring east to west over some of the most spectacular scenery imaginable.
3. Recently named the world's best city park, Stanley Park is a magical oasis of beaches, trails, rainforest and parkland, set in the heart of Vancouver's urban landscape. The Seawall, which wraps around the outer edge of the entire park, offers walkers and cyclists unobstructed views of the surrounding mountains, ocean, city, sky and forests of the park
4. By following the cobbled streets of Granville Island visitors will discover a place for all their senses. Home to boutiques, restaurants, theatres, local galleries and a public market, Granville Island should not be missed.
5. End the day where Vancouver began, in the historic district of Gastown. Initially, the area was a settlement that sprung up around a single tavern founded in 1867 by John "Gassy Jack" Deighton. A statue of the legendary sailor and gold prospector now stands at the intersection of Water and Carrall, where cobblestone streets are lined with brewpubs and restaurants serving a variety of mouth-watering dishes.
6. Built in 1889, Capilano Suspension Bridge is the oldest visitor attraction in Vancouver. The bridge offers amazing immersive views of the Capilano River and the surrounding forest in North Vancouver. Today there are several other attractions on site, including Cliffwalk – a curved walkway that juts out from a granite wall high above Capilano Canyon.
7. The culinary scene of Vancouver, Coast & Mountains is a delicious blend of fresh, local ingredients, international flavors and talented chefs. And nowhere is this more evident than at one of the 4 night markets that take place in Richmond, Vancouver and North Vancouver. Highlights include heaps of swirly hurricane fries, Japanese takoyaki, marinated beef, and fresh duck wraps.
8. The Sea to Sky Gondola in Squamish is now open and is whisking visitors on a 10-minute gondola ride over 2,904 feet above sea level. There are three main viewing platforms, which offer new and exciting views of the surrounding coastal mountains the fjord below.
9. Just a 20-minute ferry ride from Horseshoe Bay in West Vancouver, you'll find beautiful Bowen Island. Water lovers will enjoy kayaking around sheltered bays and swimming at sandy beaches.
10. Washington residents enjoy special offers from our travel partners, including the Granville Island Hotel, a boutique hotel located in the heart of Granville Island and the Lionsgate Travelodge which is ideally located near the north end of the Lions Gate Bridge and only minutes from major attractions.
Located just 2 hours north of Seattle, the Vancouver, Coast & Mountains Region is a spectacular four-season destination. Nestled between the Coast Mountain Range and the Pacific Ocean, this region offers recreational activities for every age and every interest. Whether you're looking for a getaway that is adventurous, culinary-focused, romantic or family-friendly, the Vancouver, Coast & Mountains Region has options for every visitor. Visitors can take advantage of pre-planned itineraries or use the new trip inspiration tool to generate a custom list of attractions and activities.
For more information about Washington Resident travel deals in Vancouver, Coast & Mountains please visit 604pulse.com or call 1-800-667-3306.