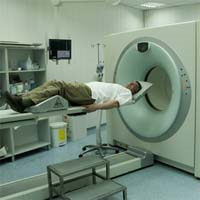 Their initial 18F-FDG scans had accuracy of 82%...
Raleigh, NC (PRWEB) May 20, 2014
Researchers studying the effectiveness of the imaging method called 18F-FDG-PET for peritoneal mesothelioma say it is good at detecting both the presence and absence of cancer. An article on the new research is now available on the Surviving Mesothelioma website. Click here to read it.
Imaging experts at a university hospital in Barcelona, Spain analyzed the FDG-PET scan histories of 60 men and women with peritoneal mesothelioma, a form of mesothelioma that spreads across the lining of the abdomen. Patients had a mean age of 53.
"Their initial 18F-FDG scans had accuracy of 82% and positive predictive value of 83% and negative predictive value of 80% for the detection of disease presence and disease free state, respectively," writes lead author Anna Domenech-Vilardell.
The study, published in the Italian medical journal the Quarterly Journal of Nuclear Medicine and Molecular Imaging, concludes that 18-FDG-PET is a "valuable imaging modality" for evaluating peritoneal mesothelioma patients before surgery and monitoring their progress afterward.
"It can be difficult to determine whether or not a given mesothelioma treatment is working," says Surviving Mesothelioma's Managing Editor, Alex Strauss. "This study suggests that FDG-PET may be one of the best non-invasive ways to get this vital information."
For the details of the new study and its findings, see Tracking Mesothelioma with FDG-PET, now posted on the Surviving Mesothelioma website.
Domenech-Vilardell, A et al, "Clinical utility of 18F-FDG Positron Emission Tomography in malignant peritoneal mesothelioma, April 14, 2014, The Quarterly Journal of Nuclear Medicine and Molecular Imaging, Epub ahead of print, http://www.minervamedica.it/en/journals/nuclear-med-molecular-imaging/article.php?cod=R39Y9999N00A140076
For nearly ten years, Surviving Mesothelioma has brought readers the most important and ground-breaking news on the causes, diagnosis and treatment of mesothelioma. All Surviving Mesothelioma news is gathered and reported directly from the peer-reviewed medical literature. Written for patients and their loved ones, Surviving Mesothelioma news helps families make more informed decisions.