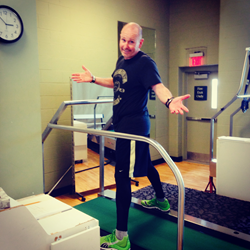 GJ says, I thought my best days were behind me health wise and found my best days are ahead of me.
Linclon, NE (PRWEB) May 23, 2014
Neil Haley, the Total Tutor and host of the Simply G Radio Show, recently interviewed entrepreneur and CEO of Simply G Media Network GJ Reynolds to discuss his impressive workout routine. The discussion dives deeper into Reynolds' motivation, ultimate goal, and what keeps him going day by day.
GJ Reynolds is an original equity holder in the company ViSalus, a 5 Star Ambassador, and Vi Millionaire. He is also the author of "The Playful and Powerful Warrior Within You." Reynolds has worked out for 950 days straight, and won the Dale Brown Challenge.
Reynolds was challenged by Ryan Blair, CEO of ViSalus, and Coach Dale Brown to work out every consecutive day without pause. Initially, he worked out for 120 days straight before stopping. It was then that Coach Brown showed him why he should get back in gym. Reynolds was only able to complete 6 repetitions, while Brown was able to complete 8 different exercises at 20 reps each. Reynolds decided to get serious after seeing someone older than himself maintain such an impressive routine and stay in great shape.
Now, Reynolds has worked out for 625 days in a row, and has also run 2 miles per day for over 950 days and counting. Even while sick with a fever or set back by injury, Reynolds has "stayed the course" and successfully met Coach Dale Brown's challenge. He doesn't plan to stop, hoping to keep up the exercise streak for as long as physically possible.
Interestingly enough, Reynolds does not particularly enjoy working out, and diligently does it with the goal of inspiring at least one person every day. He also uses it as a positivity booster for himself; upbeat music and a playful approach help him to enjoy exercising.
GJ says, "My goal is to show that no matter where someone is in life they are able to elevate their own bar. I thought my best days were behind me health wise and found my best days are ahead of me."
This past week, GJ hit a personal milestone by running 19 miles per hour on a treadmill. He continues to challenge himself, setting the bar higher and higher and applying any effort necessary to accomplish his objectives. His long-term goal is to work out each and every day for the rest of his life.
The radio interview is now available for listening. For more information, please visit http://simplyg.com/simplyg-radio/.